The Sweep: Do Retail Politics Matter in 2024?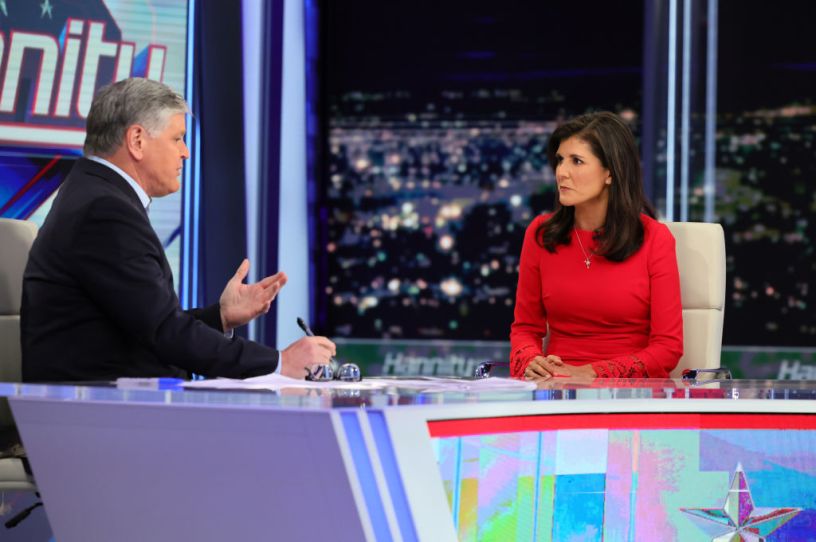 Sean Hannity and Nikki Haley during a taping of "Hannity" on January 20. (Photo by Theo Wargo/Getty Images.)
Appetizer
I've often complained about bad polling here. But there's also a problem of polling being used badly. Our constitutional republic doesn't leave everything to the majority, after all. Most Americans can believe that Donald Trump and Joe Biden are guilty of the crime of retaining classified information. And that poll would be an interesting window into their prospects for winning a general election in 2024, but it would not be a very good way to determine whether either will wind up in jail.
Thus enters this headline: "Majority of New Yorkers want Santos to resign, new poll shows." There are a few problems here right off the bat. First, of course, God himself could want George Santos to resign and it probably wouldn't make much of a difference. But that's not what's galling. George Santos represents New York's 3rd Congressional District. But this Siena Poll surveyed 800 registered voters across New York state. I'm sure a majority of California's 39 million residents would like Kevin McCarthy to resign, but that population isn't very representative of the 761,000 or so people who live in California's 20th Congressional District and obviously disagree.
In many ways, Santos has been a blessing—a low stakes way for us to learn some valuable lessons about the repercussions of building a celebrity candidate where flash is rewarded over substance because Congress is too broken as an institution for anyone to have any substance. As I've said before, there isn't much difference between a candidate who pursued a popular, bipartisan solution and failed to pass any legislation because it didn't have majority support from his own party and one who didn't try at all and spent his time raising millions of dollars by saying outrageous and outraging things on social media. Actually, there is. The second guy has a few million dollars to spend.
Thankfully, Santos doesn't really matter. Congress is broken. But even in an institution in the peak of health, a freshman congressman wasn't going to have a lot of say over anything besides what he wants for lunch. And even then, Chick-fil-A still isn't open on Sundays. And his increasingly flimsy lies to cover up for previous lies provide some levity during this winter. And he's not going to resign because the one thing he has right now is a budget for staff and a salary as his legal woes pile up. And he has the Speech or Debate Clause, which provides him at least a limited amount of protection from being arrested at work and from having his office searched. 
Get every newsletter and all of The Dispatch. Support quality, fact-based journalism.
Start Your Free Trial
ALREADY A PAID SUBSCRIBER? SIGN IN