The Sweep: When Both Sides See the Other as a 'Threat to Democracy'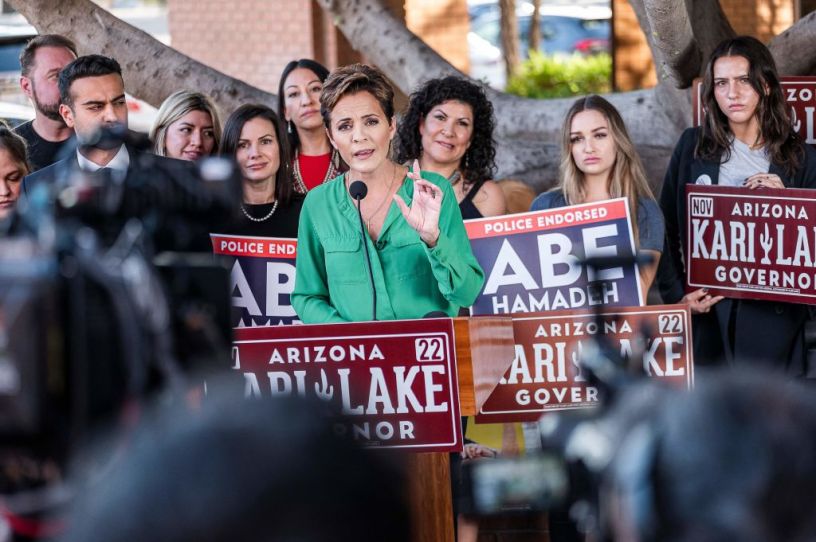 Arizona Republican nominee for governor Kari Lake. (Photo by Olivier Touron/AFP/Getty Images.)
Saving Democracy
So this isn't great. "A New York Times/Siena College poll shows that 45 percent of Americans regard Trump as a 'major' threat to democracy, while just 28 percent say the same of the GOP," writes Aaron Blake at the Washington Post. Okay. But it turns out "that 28 percent figure is actually smaller than the percentage who view the Democratic Party as a threat to democracy (33 percent)." Wait, what?
And independents are significantly more likely to view Democrats as a major threat than Republicans. Although more than 6 in 10 view each party as at least a minor threat, just 23 percent view the GOP as a major threat, while 31 percent say the same of Democrats. Independents are actually more likely to view voting by mail as a major threat to democracy (31 percent) than the GOP.
Maybe this could be written off for vagueness … what do each of these people mean by a "threat to democracy"? Then again, it's a pretty ominous phrase regardless of the specific definition one may conjure.  
But lest we think that poll was a one-off, here's another startling nugget, this one from NBC: "Some 80% of Democrats and Republicans believe the political opposition poses a threat that, if not stopped, will destroy America as we know it." That one feels pretty concrete to me.
Get unlimited access to our 10 daily and weekly newsletters, Dispatch Live broadcasts, article comments and community events.
Get Started
ALREADY A PAID SUBSCRIBER? SIGN IN