Polling on Trump's Cases Shows Two Different Universes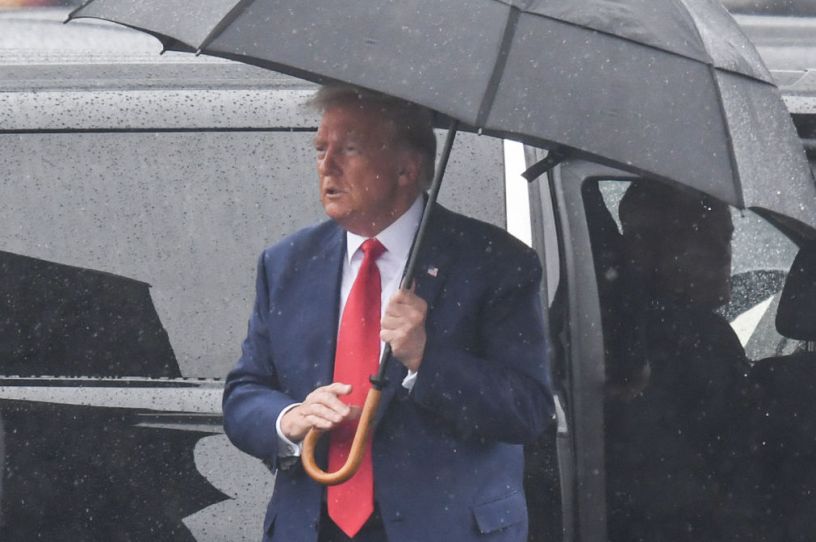 Former President Donald Trump arrives at Ronald Reagan Washington National Airport in Arlington, Virginia, on August 3, 2023, after his arraignment in court. (Photo by Olivier Douliery/AFP/Getty Images.)
Welcome back to The Collision, where we have some big news. From Sarah's husband, Scott Keller, in an email last Friday: "We're thrilled to announce the birth of Cavan ('Case') Walter Keller. Sarah is doing very well. … Case was born today on September 1, 2023. At a height of 20 inches, he weighed-in to this world at 6 pounds, 11 ounces. Sarah's maternal grandparents were from County Cavan, Ireland, and my maternal grandfather was named Walter."
Congratulations to Sarah, Scott, and the whole family! Now, on to business.
The Docket
Hunter Biden, the son of President Joe Biden, could be looking at a new federal indictment by the end of the month, possibly related to gun charges. The Associated Press reports that special counsel David Weiss, who also brought misdemeanor tax charges against Biden earlier this year, indicated in a new court filing that he would file an additional indictment by September 29. An earlier plea deal, which Biden's attorneys argued included immunity from a felony gun charge, fell apart last month amid some real confusion from all parties, including the judge.
While it will likely still be months before former President Donald Trump goes on trial, two of his co-defendants in Fulton County, Georgia, will start their own trial next month. In a hearing Wednesday, Judge Scott McAfee denied former Trump lawyers Sidney Powell and Kenneth Chesebro their requests to be tried separately. But both defendants were granted their demand for a speedy trial, which is scheduled to start on October 23.
Former President Donald Trump has repeatedly gone after both special counsel Jack Smith and U.S. District Judge Tanya Chutkan in social media posts. Now, Smith's team is arguing in a new complaint that Trump's posts risk tainting the jury pool for his upcoming trial in Washington, D.C. The Tuesday filing outlines the government's opposition to the defense's motion to vacate an existing protective order limiting what Trump can say about information brought up during discovery. Smith wrote that Trump's "daily extrajudicial statements" could "threaten to prejudice the jury pool."
Polling Trump's Indictments
Why have the other Republican candidates for president—seemingly falling further and further out of the race with each passing week—proven neither willing nor able to go after the former president for his multiple indictments? The assumption, based on both regular conversations with officials from those campaigns and from observing the obvious, is that Republican primary voters not only don't care about Trump's legal woes—they think he's being unfairly targeted.
The recent Wall Street Journal poll put some more meat on those bones, finding the charges aren't giving GOP voters any second thoughts. But the survey also spells out how these indictments could cause Trump serious trouble in a general election, because the majority of registered voters think the cases have merit—at least at this point.