Approaching the Appropriations Fight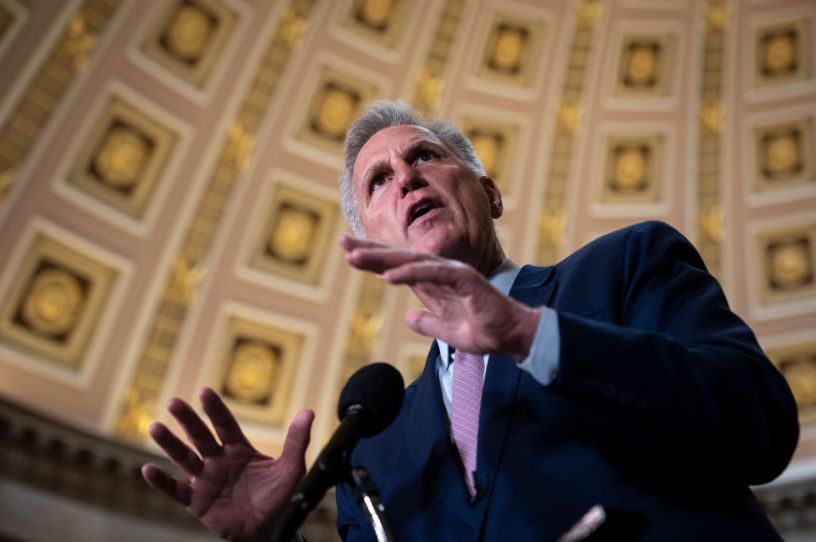 Speaker of the House Kevin McCarthy talks to reporters during a news conference on July 19, 2023. (Photo by Drew Angerer/Getty Images)
With only four remaining workdays in the House and three in the Senate before a five-week recess, the deadline to fund the government for the next fiscal year is much closer than it appears. The Republican-controlled House and Democratic-controlled Senate have until September 30 to settle on both topline funding levels and policy amendments—and the gulf between the two chambers has only grown this summer.
One paper it might seem as if Congress is striding toward both chambers' stated goal of passing 12 annual appropriations bills through regular order for the first time since 1996: So far, the House Appropriations Committee has approved 10 of the 12 bills its subcommittees have drafted, and their counterparts in the Senate have approved eight.
But none of those bills are expected to become law. House appropriators have come up with bills that fall well short of the spending caps laid out in the debt ceiling deal from earlier this year, while the Senate Appropriations Committee wants to go above the caps, at least when it comes to defense.
As it was with debt ceiling in May, so it is with appropriations: While most House Republicans are prepared to follow Speaker Kevin McCarthy's lead through negotiations with the Senate and the White House, some in the conference think the party leadership's preferred bills are insufficiently conservative—for example, by relying on "clawbacks" or recissions of unspent funding from this current fiscal year rather than actually reducing next year's spending. Earlier this month, a group of 21 Republicans—led by Freedom Caucus Chairman Scott Perry—wrote McCarthy a letter vowing to withhold their votes from any appropriations bills that reach the topline spending levels of the debt ceiling agreement.