Democrats Urge New Gun Laws Amid Spate of Shootings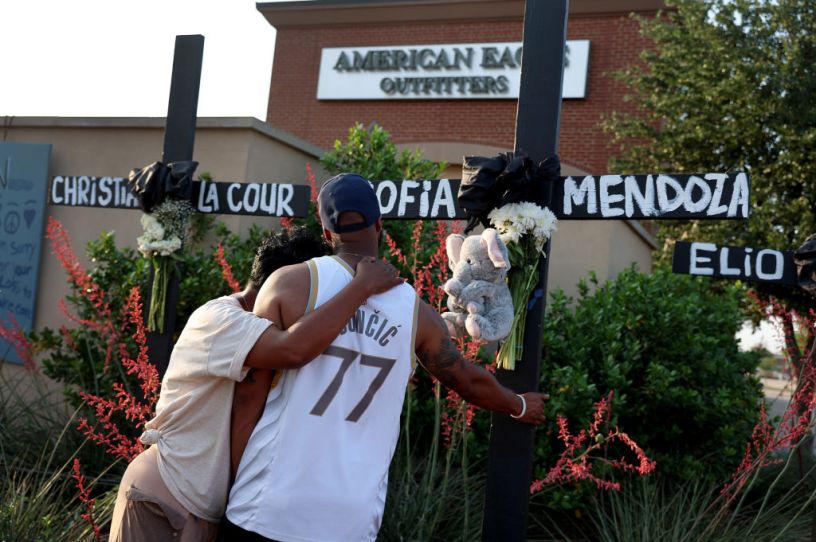 Robert Jackson and his mother Cheryl Jackson hug as they visit a memorial near the scene of a mass shooting at the Allen Premium Outlets mall Monday. Eight people were killed and seven wounded in the attack in which the gunman was killed by police. (Photo by Joe Raedle/Getty Images)
Democratic lawmakers are renewing calls for an assault weapons ban and other gun control proposals in the aftermath of Saturday's deadly mass shooting in Allen, Texas. But as we wrote in March after a horrific mass shooting at a Christian school in Nashville, such calls are all but guaranteed to go nowhere.
Republican lawmakers largely aren't interested in debating more gun restrictions.
"Congress passed more gun control," said House Majority Whip Steve Scalise—who himself was seriously wounded in a 2017 mass shooting—in reference to a gun violence prevention bill Congress passed last year. "I opposed it because I knew it wouldn't solve the problem. It just makes it harder for law-abiding citizens to get guns to defend themselves."
That bill passed Congress a few months after 19 children and two teachers were killed during a mass shooting at an elementary school in Uvalde, Texas. It expanded the number of Americans prohibited from obtaining firearms, including those with juvenile criminal records and people convicted of misdemeanor crimes against dating partners. It also directed funding toward mental health programs and established a stricter background check process for people younger than 21 who attempt to purchase weapons.