House GOP Gives Mike Johnson (Some) Leeway in Averting a Shutdown
Happy Friday! Let's get right to it.
The Congressional Record
Sen. Joe Manchin of West Virginia, the centrist Democrat who often stymied progressives' plans during the first two years of President Joe Biden's term, announced Thursday he will not seek reelection in 2024. As the only Democrat who holds a statewide office from West Virginia, Manchin's departure imperils his party's hopes of retaining the Senate majority.
A group of Senate Republicans introduced an immigration plan this week that would limit the number of people eligible for asylum, require more evidence that migrants face threats in their home countries to approve asylum claims, and restrict requests for protection to migrants who go through official ports of entry, among other provisions. Democrats quickly dismissed the plan. The two parties are continuing to negotiate potential immigration changes as part of a broader push to approve separate funding for Ukraine as it defends itself from Russia.
House Republicans elected Rep. Blake Moore of Utah as vice chair of their conference this week, replacing the leadership gap left by Rep. Mike Johnson's succession to the speakership. He'll now participate in leadership meetings and help schedule members' speeches on the House floor.
Rep. Derek Kilmer, a Washington Democrat, will not seek reelection. In a statement Thursday, he cited sacrifices he has made by being in Congress, like missing childrens' recitals and family dinners. Rep. Brad Wenstrup, an Ohio Republican, also announced this week he will retire from Congress at the end of this year. Wenstrup, too, expressed a desire to spend more time with his family.
Rep. Brian Higgins, a New York Democrat, is also reportedly stepping down soon to become president of a local performing arts center.
In a letter this week, Rep. Chris Smith and Sen Jeff Merkley—the top lawmakers on the Congressional-Executive Commission on China—urged President Biden to bring up several topics in his upcoming meeting with Chinese President Xi Jinping. They asked the president to raise cases of political prisoners in China, demand an end to China's efforts to repress dissidents abroad, and act as a voice for Uyghurs, who face genocide in China's northwest region of Xinjiang.
Rep. Mike Gallagher, who chairs the House select committee on competition with the Chinese Communist Party, will also try to focus the administration on human rights concerns. He'll hold an event with prominent Chinese dissidents in San Francisco on Saturday, ahead of the summit.
Johnson Is in a Jam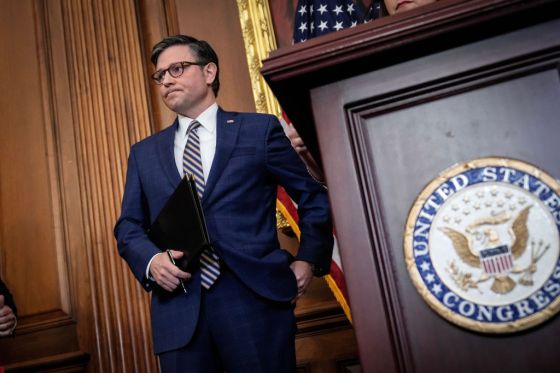 With a government funding deadline next Friday and a fractious Republican conference struggling to pass its own spending bills, House Speaker Mike Johnson now faces the same dilemma former Speaker Kevin McCarthy grappled with before he lost his job: figuring out a way to fund the federal government before it shuts down.
Johnson will have to either propose his own way out—potentially a "laddered" continuing resolution as my Morning Dispatch colleagues explained this morning—or consider a stopgap plan passed by the Senate.
But hardline House Republicans are seemingly giving Johnson more room to maneuver than they offered McCarthy. They appear much more receptive to passing a stopgap continuing resolution than they were with the former speaker, largely because Johnson is new to the gig.