Jim Jordan's Power Play for the Speaker's Gavel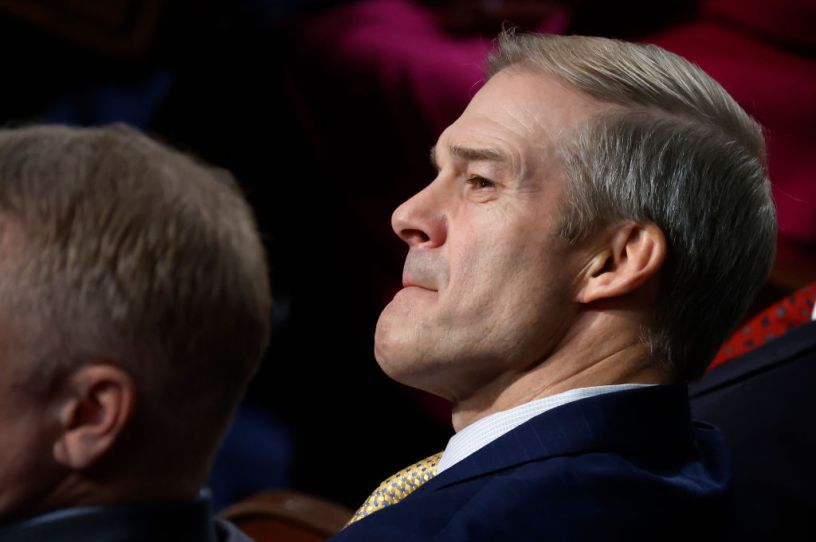 Rep. Jim Jordan listens to nomination speeches for speaker of the House Tuesday. (Photo by Chip Somodevilla/Getty Images)
Good evening. We're sorry for the late edition of this newsletter. On a busy day on Capitol Hill, where members of Congress didn't even know what would unfold, we thought it better to help you make sense of the day after events unfolded rather than trying to consult a crystal ball beforehand. With that, let's get to it.
When it comes to electing party leadership, members of Congress typically support colleagues they believe can advance a legislative agenda while guarding the personal relationships they've built over time. They want leaders who know individual members' electoral vulnerabilities and try to protect them. For the speaker of the House, that means elevating the rank-and-file's legislative priorities, fundraising for reelection campaigns, and, sometimes, keeping members of your conference from having to take uncomfortable votes.
That hasn't been GOP Rep. Jim Jordan's reputation. As a founding member of the insurgent House Freedom Caucus, Jordan for years had been seen by many House Republicans as an antagonistic, far-right wrecking ball. Sure, he's grown closer to his colleagues over the past six years, as most of the party united around former President Donald Trump. And as chair of the Judiciary Committee, Jordan has gained more experience exercising authority than his earlier terms in the House.
But as the Ohio Republican seeks the speakership this week, it's become clear he still doesn't understand—or isn't willing to accept—what it takes to lead in the House. Rather than convincing members he's on their side, Jordan and his allies have alienated Republicans with what some members saw as intimidation tactics.
You're out of free articles
Create an account to unlock 1 more articles