Lawmakers Pledge Israel Support Amid Speakership Uncertainty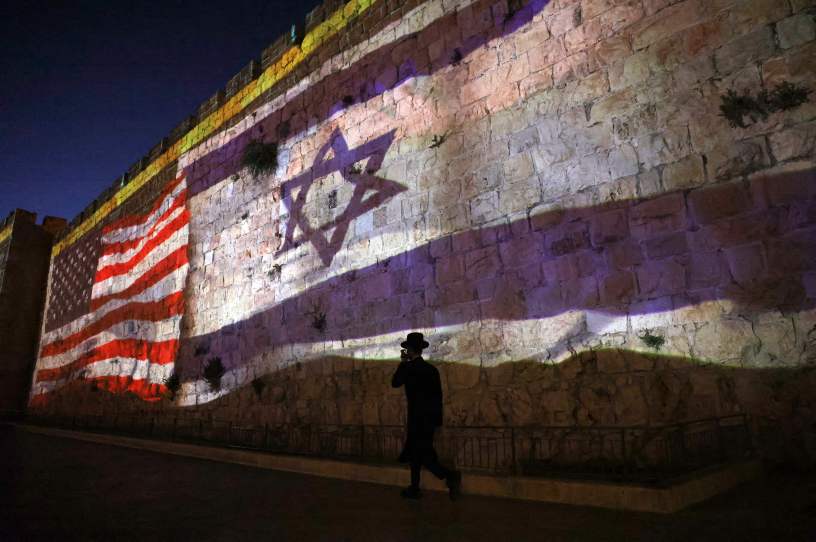 The Israeli and U.S. flags are projected against the wall of the old city of Jerusalem on July 13, 2022. (Photo by AHMAD GHARABLI/AFP via Getty Images)
American lawmakers are drafting legislation to ensure Israel has enough artillery to respond to the horrific and brutal Hamas terror attacks that killed more than 900 Israelis (as of the latest count) over the weekend.
Senate Foreign Relations Committee Chairman Ben Cardin said he is working on a bill to replenish missile interceptors for Israel's Iron Dome system, provide additional funds for Israel's defense, and explicitly reaffirm America's commitment to the longstanding ally. House Foreign Affairs Committee Chairman Michael McCaul has advocated a similar measure.
Such legislation isn't finalized or ready for a vote, but it will likely receive broad bipartisan support when it is. The United States has provided more than $150 billion in aid to Israel since the modern state was founded in 1948, with members from both parties largely backing continued assistance. Biden administration officials reportedly told lawmakers in a briefing this week they expect Israel will need more help in what may become a protracted conflict.
Top lawmakers believe immediate congressional action isn't necessary because previously passed American aid is still available. That's a good thing for Israel since any new aid, popular as it may be, will face some delays: The Senate is on recess this week, and Senate Majority Leader Chuck Schumer is on a trip to China with several other senators, making a return any sooner than the pre-scheduled date of October 16 unlikely. And some lawmakers hope to tie a future funding package for Israel to more aid for Ukraine, which could complicate its path to passage.
You're out of free articles
Create an account to unlock 1 more articles