Senators (Mostly) Back Biden on Cluster Munitions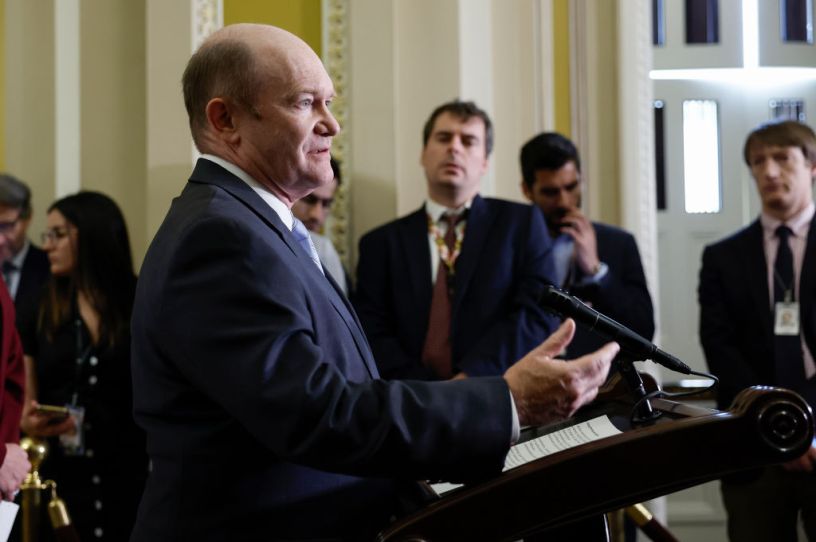 Sen. Chris Coons at the U.S. Capitol Building on June 7, 2023, in Washington, D.C. (Photo by Anna Moneymaker/Getty Images)
When President Joe Biden signed off last week on sending cluster munitions to Ukraine, he received pushback from some members of Congress who worried about the threats the weapons pose to civilians. But the resistance has been limited. Senators returning to Washington this week found themselves in a familiar stance: expressing bipartisan support for the White House's latest Ukraine decision.
"It is the right thing to do," South Dakota Republican Sen. Mike Rounds tells The Dispatch. It "definitely has the possibility of changing or improving" Ukraine's war capabilities, he adds.
Just as the Senate's position on NATO membership for Finland and Sweden hasn't meaningfully changed since it passed accession protocols for both countries by a vote of 95-1 in August, the upper chamber has been consistent when it comes to approving new weapons for Ukraine. Hawkish lawmakers may chide the president for failing to use his authority more aggressively, but they are generally supportive when he does decide to act.
And those who disagree with the administration's decision—such as Democratic Sens. Tim Kaine and Ben Cardin—can do little besides express disapproval. The security assistance package that includes the munitions comes from the president's drawdown authority, which was established by Congress in the Foreign Assistance Act of 1961 and allows for transfers of Pentagon weapons stocks in crisis situations.