The End of the Pelosi Era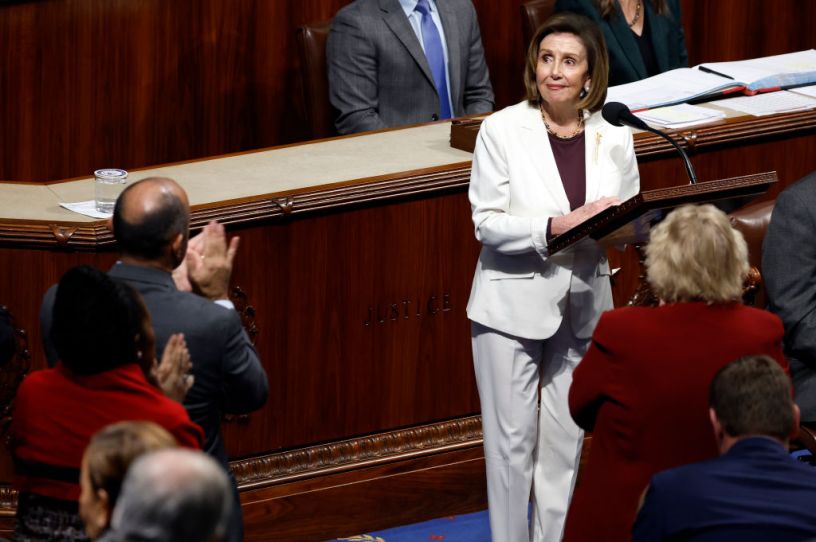 U.S. Speaker of the House Nancy Pelosi delivers remarks from the House Chambers on Thursday. (Photo by Anna Moneymaker/Getty Images)
With House Speaker Nancy Pelosi's decision this week not to seek a leadership position in the upcoming Congress, Democrats in the House will have at least two years in the minority to adjust to a new leadership team.
Rep. Hakeem Jeffries of New York, 52, who currently chairs the Democratic Caucus, has announced he will run for the party's top spot in the chamber. He has won endorsements from Democratic leaders, including current Majority Leader Steny Hoyer and Democratic Whip Jim Clyburn, both in their 80s. If elected by his colleagues, Jeffries would become the first black leader of a party caucus in Congress.
The stakes are lower since Republicans took back control of the House—the minority party often spends much of its time messaging instead of setting agendas. Still, if he wins the job, Jeffries will manage delicate negotiations with GOP leaders on must-pass government funding bills, among other priorities.
Though Pelosi, 82, will continue representing her San Francisco district, she told a small group of reporters Thursday she does not plan to act in an advisory role once she steps down from Democratic leadership.