Art for Whose Sake?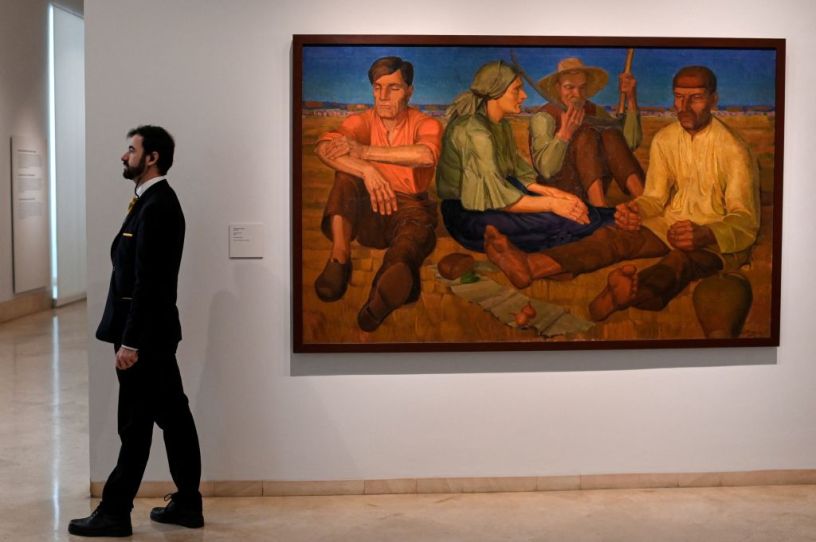 A gallery assistant stands near 'Rest' by Oleksandr Syrotenko, part of an exhibition on Ukrainian avant-garde art at the Thyssen-Bornemisza museum in Madrid. (Photo by Oscar Del Pozo /AFP/Getty Images.)
"There are three kinds of people: our enemies, our friends, and ourselves."
—Mao Zedong, "Talks at the Ya'nan Conference on Literature and Art"
Both the people and the institutions of Ukraine are under attack by the Russian forces who are trying to murder, terrorize, torture, and rape the Ukrainians into submission to Vladimir Putin. The Russians have not been particularly successful so far, though they have imposed terrible suffering on Ukraine. Most of the material damage cannot be mitigated, but some can, which is why there is a new exhibition at the Thyssen-Bornemisza National Museum in Madrid: "In the Eye of the Storm. Modernism in Ukraine, 1900–1930."
Why airlift paintings to safety when people are dying? Because what Ukrainian patriots mean to conserve is Ukraine: her people first and foremost, of course, but there is more to a nation than those of its people who happen to be alive on any given day. A nation has a history and a future. The exhibition is a celebration of Ukrainian artistic achievement, but it also serves a practical purpose—to put these works of art beyond the reach of the Russian forces who would seek to destroy them in their campaign to erase the idea of Ukrainian-ness from the world entirely.