Hunter Biden Has It Coming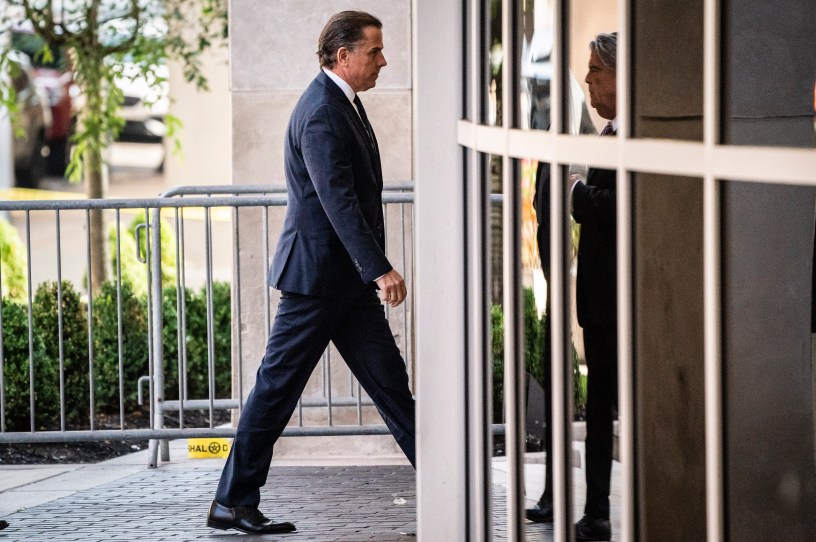 President Joe Biden's son Hunter Biden arrives for a court appearance at the J. Caleb Boggs Federal Building on Wednesday, July 26, 2023, in Wilmington, DE. (Photo by Jabin Botsford/The Washington Post via Getty Images)
Before the month of September is out, the federal government will indict Hunter Biden on federal firearms charges.
Apparently, the guys in charge of U.S. law enforcement have decided to enforce U.S. law—well, raise my rent!
When you buy a firearm, you fill out a form provided by the ATF, Form 4473. You are required to answer—truthfully!—certain questions about whether you are disqualified from buying a firearm: Are you a convicted felon or under felony indictment? Under a domestic abuse protective order? An illegal alien? One of those questions reads:
"Are you an unlawful user of, or addicted to, marijuana or any depressant, stimulant, narcotic drug, or any other controlled substance?"
If Hunter Biden had answered "yes" to that question, then he would not have been allowed to purchase a firearm; if he answered "no"—which he presumably did—then he lied on a federal firearms application, which is a felony punishable by up to 10 years in prison. In addition, the crime of being an unlawful user of drugs in possession of a firearm is another separate felony, punishable by up to five years in prison.
(I do not think this ruling, which might bring the latter charge into question, is likely to stand.)
When Julius Caesar was serving as chief priest (pontifex maximus) of the Roman state religion, a young schemer named Clodius managed to sneak into Caesar's home while Caesar's wife, Pompeia, was hosting a religious ceremony that men were forbidden to attend. Apparently, his plan was to seduce Mrs. Caesar. Caesar had the young man tried on criminal sacrilege charges (here one imagines Sohrab Ahmari nodding in approval), and the defendant was acquitted—but Caesar divorced his wife anyway, declaring, as legend has it, "Caesar's wife must be above suspicion." People close to those in possession of awesome power are naturally held to a higher standard.
Caesar's wife, sure—and Caesar's idiot dope-fiend son, too.