The Achilles' Heel of the Rich and Powerful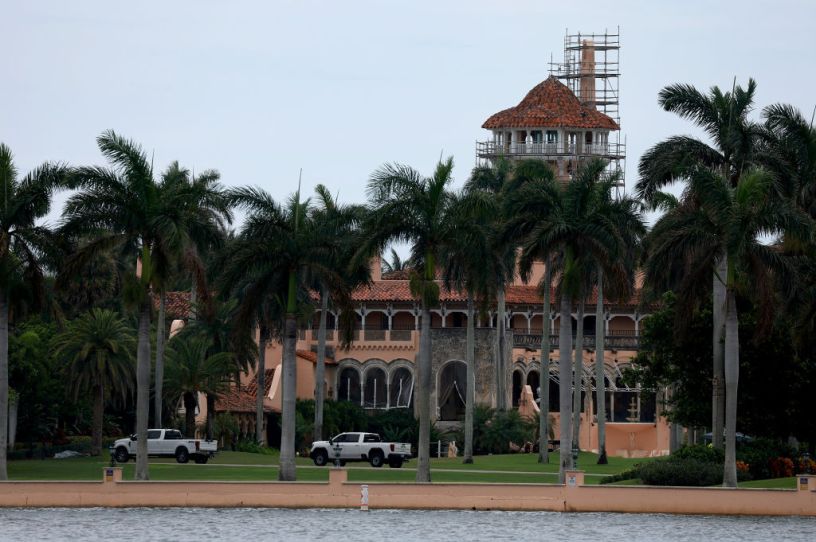 Former U.S. President Donald Trump's Mar-a-Lago estate is seen on June 8, 2023 in Palm Beach, Florida. (Photo by Joe Raedle/Getty Images)
Of course, Donald Trump has a valet problem. How could it be otherwise?
As Hunter S. Thompson observed in a different Palm Beach-related scandal many years ago—the infamous Pulitzer divorce case—"The servant problem is the Achilles' heel of the rich. That is the weak reed, a cruel and incurable problem the rich have never solved—how to live in peace with the servants. Sooner or later, the maid has to come in the bedroom, and if you're only paying her $150 a week, she is going to come in hungry, or at least curious, and the time is long past when it was legal to cut their tongues out to keep them from talking."
The people with whom Trump surrounds himself are … not the "best people," as he promised. (But if you are surprised that Trump has failed to keep a promise, you should have asked Mrs. Trump, or Mrs. Trump, or Mrs. Trump, for that matter, or maybe Stormy Daniels.) The list is one that a novelist would blush to invent: Mike Pence, the pious fraud who did Trump's bidding right up until the moment doing so stopped serving his interests and now presents himself as the second coming of St. Francis; Rudy Giuliani, the knee-walking grifter who still remembers enough law that he already has stipulated the falsehood of his stolen-election nonsense—that swill is fine for the slavering proles in the Fox News audience, but even Giuliani wouldn't try to defend it in court; Roger Stone, literally the kind of cuckold he likes to accuse others of being metaphorically; etc. And now Trump's valet, Walt Nauta, is facing the prospect of time in a federal penitentiary after what reports describe as a truly clownish cloak-and-dagger affair involving "shush" emojis, sneaking through the hedges at Mar-a-Lago, and roping another minion into a scheme to destroy evidence when he did not have the technical chops to get the job done himself. These putzes make the White House Plumbers of Watergate infamy look like the Count of Monte Cristo crossed with Professor Moriarty. Criminal masterminds, they ain't.
Miles Taylor, former chief of staff at Homeland Security, recently told a podcast that part of his job was dumbing down security briefings for the "incandescently stupid" president.
Get every newsletter and all of The Dispatch. Support quality, fact-based journalism.
Start Your Free Trial
ALREADY A PAID SUBSCRIBER? SIGN IN