Our Best Stuff From a Week of Indictment News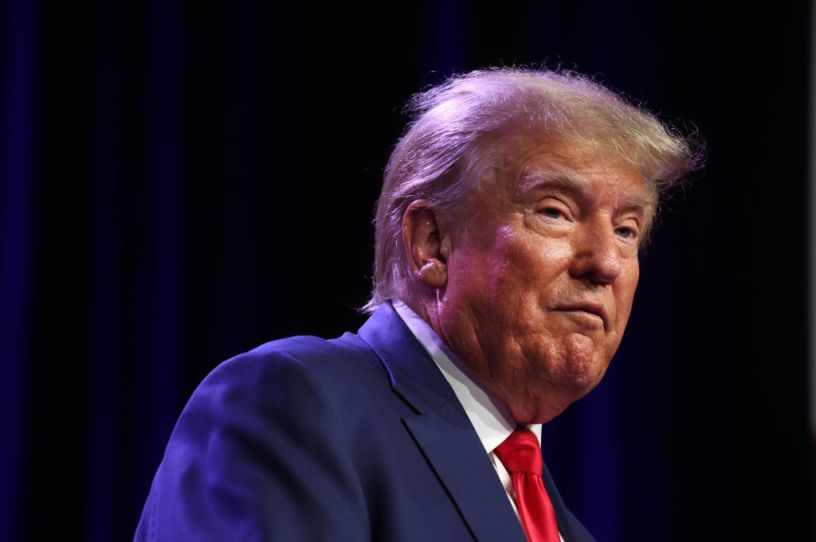 Former President Donald Trump speaks to guests at the Republican Party of Iowa 2023 Lincoln Dinner on July 28, 2023 in Des Moines, Iowa. (Photo by Scott Olson/Getty Images)
Happy Sunday! Have you signed up for our new newsletter, The Collision? It officially launched just this week, and boy, talk about impeccable timing. We saw an opportunity to take advantage of the unique skillsets of Sarah Isgur (lawyer, former Justice Department staffer, and veteran of presidential campaigns) and Michael Warren (a seasoned congressional and campaign reporter) to cover an unprecedented story: a former president running for his party's nomination while facing federal criminal charges. It's a legal story, and a political story, and the two aspects are hopelessly intertwined.
Little did we know when we chose Thursday to debut the newsletter that we'd be racing against the clock to get the first edition to your inboxes before the news of the day rendered it obsolete. Just as we were putting the finishing touches on everything, news broke that special counsel Jack Smith was meeting with former President Donald Trump and his lawyers. Smith, of course, had already indicted Trump on 37 felony counts related to his retention of national security documents. But this meeting was about a possible indictment stemming from Smith's investigation into Trump's actions in the wake of the 2020 election. We wanted to get the newsletter out ahead of that, so we dotted the i's, crossed the t's and hit send.
Then we waited. And waited. And then reports came out that there would be no indictments regarding the election on Thursday. As it happens, that did not mean there would be no indictments at all. Late in the afternoon, an updated indictment in the documents case came down: Prosecutors added new charges to Trump's indictment for retention of documents and obstruction of justice, and a new defendant—Mar-a-Lago employee Carlos De Oliveira, who is accused of seeking to delete security footage that the Justice Department had requested.
While you shouldn't miss Friday's Morning Dispatch—Declan and crew even missed a Dispatch softball game to get on top of the breaking news—we also sent Sarah and Mike back to the factory to crank out a bonus installment of what we promised would be a weekly newsletter. (If you want to make sure never to miss any of their analysis, join The Dispatch as a member today.)