Our Best Stuff on the Supreme Court, Trump's Legal Woes, and Ukraine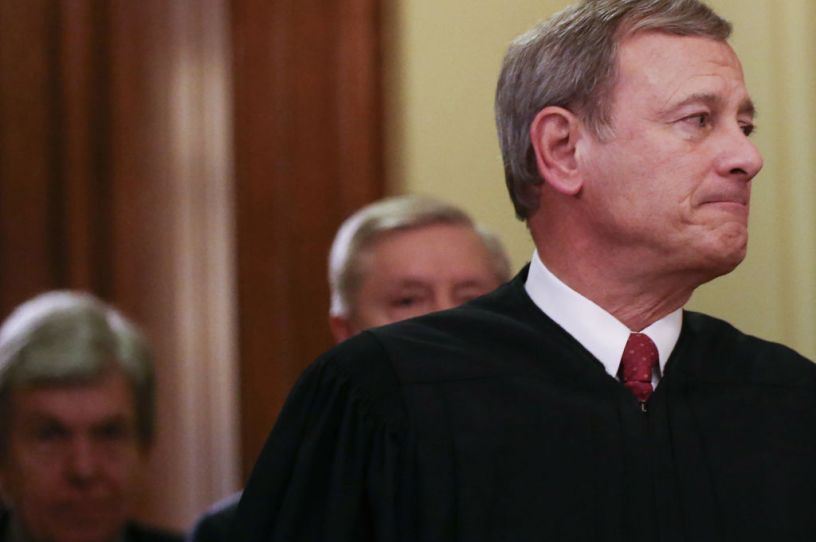 Supreme Court Chief Justice John Roberts departs from the Senate chamber on February 5, 2020 in Washington, DC. (Photo by Mario Tama/Getty Images)
Hello and happy Sunday. This is going to be short, as the Ohio bureau has briefly and temporarily relocated to Tennessee for yet another baseball tournament and I've been a little disconnected from the news. And our schedule leaves no time for a Barbenheimer double feature, so I hope you weren't expecting a review.
Our travels this summer have afforded me a few chances to be more offline, and I think there are some benefits to that. For example, when I'm listening to some fellow baseball moms talk about their plans to take their daughters to Barbie (which seems to be the second-hottest ticket of the summer, just below Taylor Swift's tour, and requires about as much outfit planning), I can't be paying attention to the Very Online conversation about whether the movie is a "flaming garbage heap" of wokeness, as the Daily Wire's Ben Shapiro put it, or not as gay as some of its LGBT fans were hoping. I don't know who needs to hear this, but it's a movie about a doll. Take a deep breath.
It might seem odd for an editor at a news publication to recommend spending a little less time engaging with news, but the above example demonstrates what can happen when you spend too much time scrolling. Obviously it's good to be up on the news and to seek sources that can put current events in perspective and analyze their importance. But unless you read print publications or bookmark a select few quality sites and check them out directly, sorting out the news can be a lot like panning for gold: You're going to sift through a lot of dirt in search of even a small nugget. The difference, of course, is that the dirt on the internet can't be washed away.
If you're reading this, you've probably heard us say we're trying to do things differently, to slow the news down and focus on what's important. But sometimes it's hard to follow our own advice. It's easy to go to Twitter to check on a breaking news update from Ukraine or search for what a particular journalist is reporting on immigration or a Supreme Court decision and then accidentally end up going down a rabbit hole on how the military is undergoing a "Marxist indoctrination" or how Robert F. Kennedy Jr. is the hero we need.