The Morning Dispatch: Hanukkah Violence
Plus, living in a nation perpetually steeled for mass tragedy.
Happy Monday. We're smack dab in the middle of the twilight zone between Christmas and New Years, where time feels a little surreal. We yearn for the faint semblance of structure the new year will bring.
Quick Hits: What You Need to Know
Rep. John Lewis, civil rights icon and longtime Georgia representative, announced Sunday he has been diagnosed with Stage IV pancreatic cancer.

This season's college football national championship is set. The LSU Tigers, led by Heisman-winning quarterback Joe Burrow, will take on the Clemson Tigers two weeks from today in a battle to determine Tiger supremacy.  (Condolences to Morning Dispatch editor Rachael Larimore, whose Ohio State Buckeyes were defeated in heartbreaking fashion on Saturday night—with a little help from the referees.)
Hanukkah Violence in New York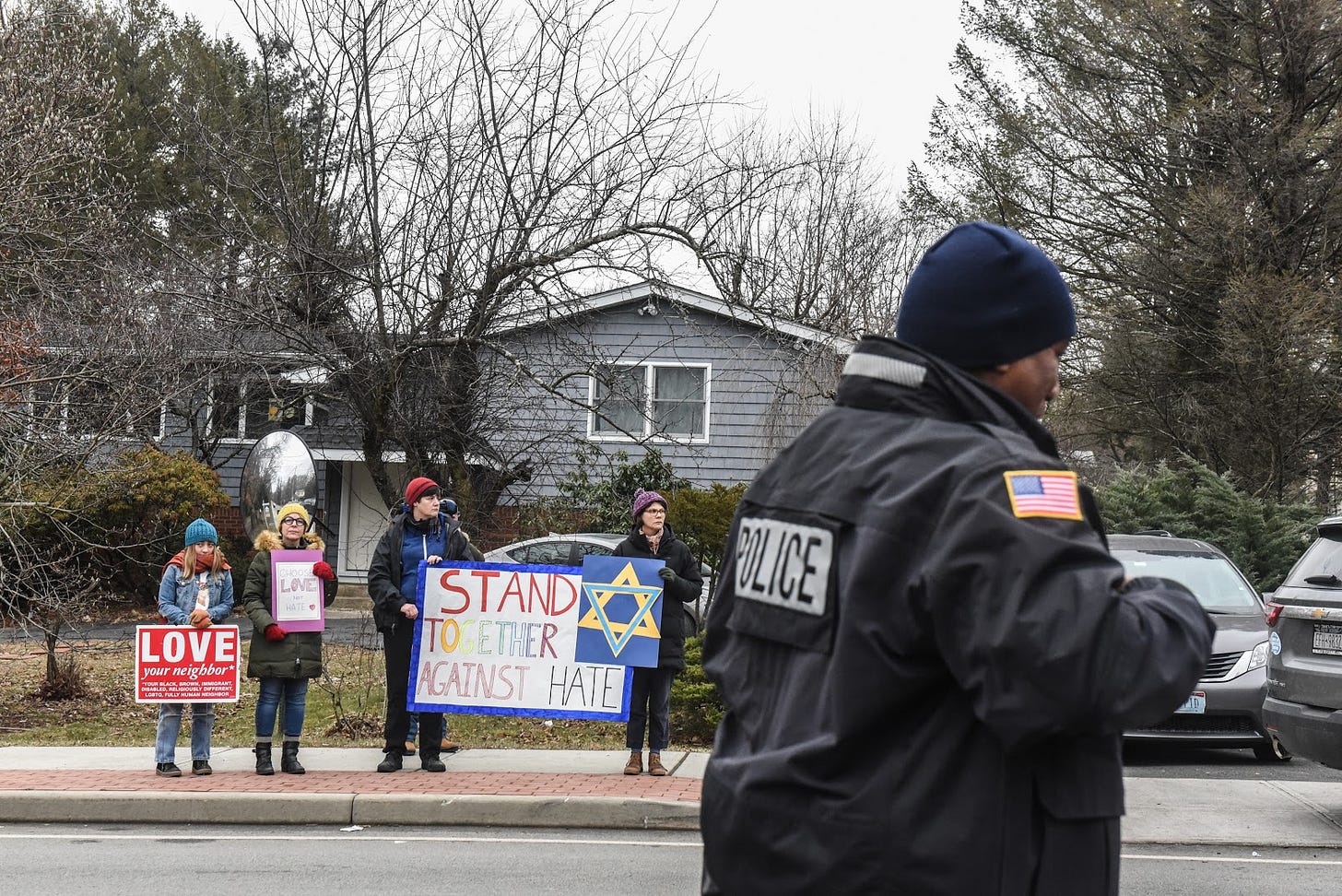 Monday is the final day of Hanukkah, the Jewish holiday commemorating the rededication of the Temple in Jerusalem in the second century B.C. But celebrations have been marred this year by shocking acts of violence, particularly in communities in and around New York City.
According to local New York station WPIX, Jewish New Yorkers were targeted in alleged anti-Semitic crimes almost every day last week—an old man assaulted and cursed at, young children attacked by teenagers, women slapped and hit. On Friday, New York City Mayor Bill de Blasio denounced the slew of attacks and said the city would bolster its police presence in Jewish neighborhoods.
Then, just one day later, came the most brutal attack of all: In the NYC suburb of Monsey, a man walked into a rabbi's home where Jews were gathered to celebrate, and he attacked them with a large knife—a machete, by some accounts. Five people were stabbed before the worshipers began to fight back and the attacker fled. All survived.
The attacks hit a community already reeling from previous acts of violence. Earlier this month, a pair of gunmen opened fire at a kosher deli in Jersey City, in an attack that left three civilians and one police officer dead. And a little more than one year ago 11 Jews were gunned down at the Tree of Life synagogue in Pittsburgh, the deadliest anti-Semitic attack in U.S. history.
Anti-Semitism is a problem that defies neat ideological classification. But while both the mainstream left and right are loudly denounce violence against Jews, it's too often the case that people in power would rather use those denunciations as ammunition against the other side than to police their own. With anti-Semitism rising among right- and left-wingers alike—the former primarily among the conspiratorial and white-nationalist alt-right, the latter among those whose rabid anti-Zionism bleeds into bigotry against Jews as a whole—it's little help to American Jews to determine whose side wants to hurt them more.
Church Violence in Texas
America's Jews have not been the only people of faith to suffer violence last week. On Sunday, a man with a shotgun killed two worshipers during a church service in White Settlement, Texas, before an armed parishioner shot him.
The attacker was killed before he could do greater harm, but it's an unbelievable tragedy that these sort of attacks have become frequent enough that we immediately file a story of "only two dead" away in our minds as a minor shooting incident.
What's remarkable—and chilling—about this story is how its details reflect how ubiquitous in our collective consciousness these attacks have become. The man who killed the assailant was part of the congregation's volunteer security force: congregants who are licensed to carry and who decided to form a protective unit because, one pastor told the New York Times, "people go into schools and shoot people." The state of Texas began allowing licensed gun owners to begin carrying handguns into places of worship earlier this year, for the same reason.
At the statistical level, mass shootings remain rare: a person is about as likely to die being struck by lightning. When they do occur, however, they are increasingly striking into communities that have considered the possibility of such an attack occurring and formed some sort of plan for how to react if one should unfold.
Worth Your Time
Politico asked 23 different historians to jot down a few sentences describing what they believe will be the longest-lasting takeaways of the decade. From the end of privacy, to the populist moment, to the potential crack-up of our democracy, their answers are worth your time.

Remember Y2K? We don't, because we were children. (Eds: Some of us remember it well.) But lots of people who do talked to Eric Spitznagel for his piece in Popular Mechanics recounting the 20th anniversary of the technology-induced panic. 

Much of the conversation over impeachment these days centers around the political considerations: procedural sparring between Nancy Pelosi and Mitch McConnell, President Trump's efforts to keep his Senate caucus loyal, and the like. Meanwhile, however, we keep finding out more and more about the actual bad behavior that led to Trump's impeachment in the first place. This Sunday's New York Times had the most complete inside scoop yet on how the withholding of money from Ukraine actually went down. (Spoiler: Mick Mulvaney was very, very involved!)
Presented Without Comment
Something Fun
Catholic guilt is real—and it compelled 60+ year old Mike Friedel to return his copy of Plain Speaking: An Oral Biography Of Harry S. Truman to the Fond du Lac Public Library in Wisconsin after 44 years of delinquency.
The book was accompanied by a $100 donation from Friedel; we hope the library doesn't choose to collect the full $1,600 in late fees!
Toeing the Company Line
Let Us Know
Continuing our "best-of-2019" series from Friday, we looked back at the best things we watched over the past year. (Note: Because one of us doesn't get to the theater for anything other than Disney animated films, not all of these films/series were released in 2019; but that's when we watched them.) Send us yours via email or Twitter—we're looking for recommendations!
Declan's Top Movies/Series of 2019:
Uncut Gems

Once Upon a Time... in Hollywood

Parasite

Marriage Story

Knives Out
Andrew's Top Movies/Series of 2019:
Little Women

Us

Knives Out

Spider-Man: Far From Home

Once Upon a Time … in Hollywood
Steve's Top Movies/Series of 2019:
Photograph of people holding signs of support near the house of Rabbi Chaim Rottenberg on December 29, 2019 in Monsey, New York, by Stephanie Keith/Getty Images.