What My Family Saw at the Nashville 'I Will Breathe' Rally
And afterward.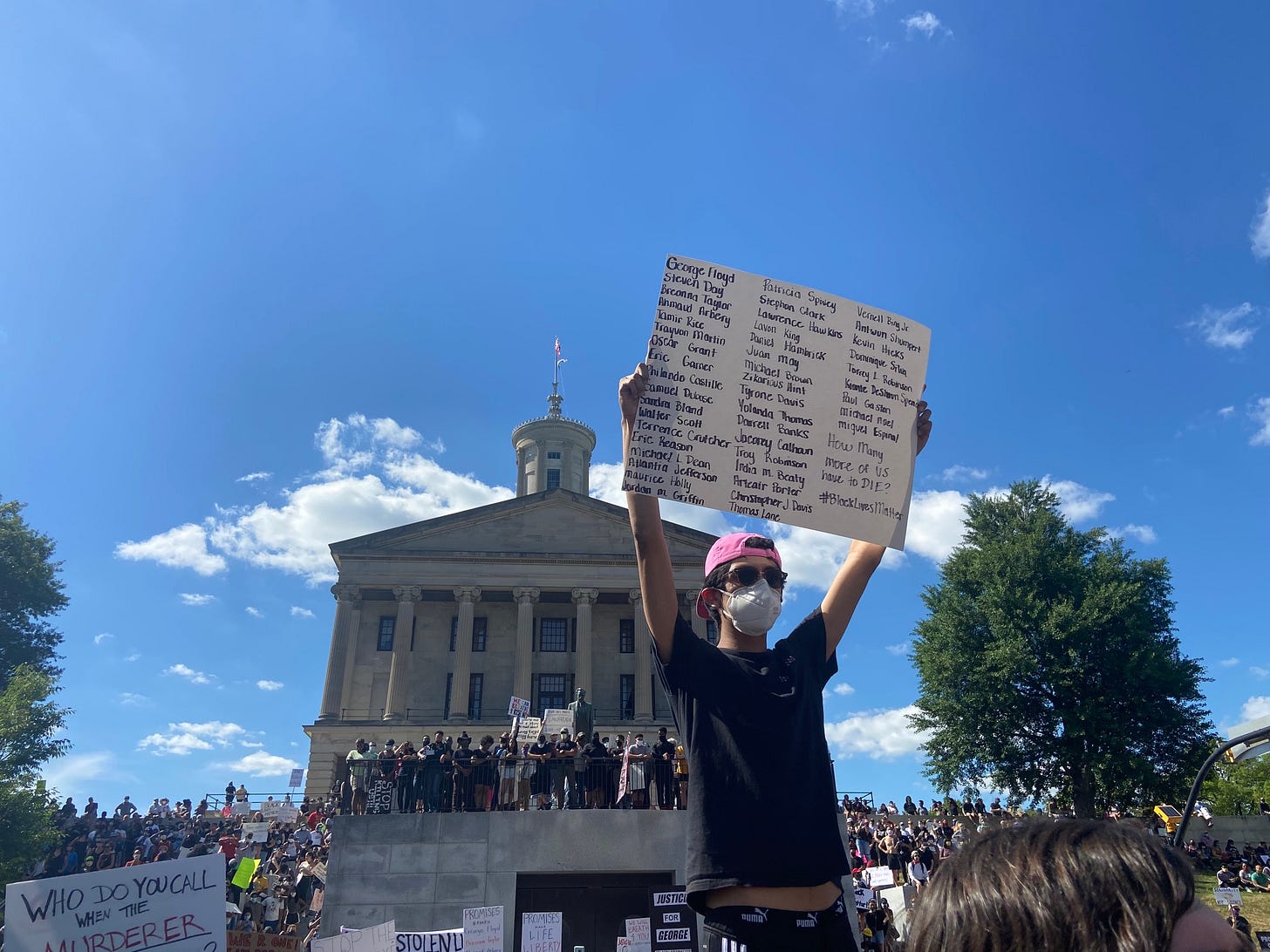 My husband David and I sought counsel from friends and family. 
We were considering whether we should take Naomi, our 12-year old daughter, to Nashville's "I Will Breathe" rally Saturday organized by local groups, such as the Brother's Round Table, Keva Inc., Equity Alliance, and the NAACP. Riots had already broken out across the nation, and the city of Atlanta was under siege. 
Naomi, originally from Ethiopia, had been targeted by racists before, but we'd largely protected her from it. (Listen to David talk about what we experienced during the 2016 election on NPR here.) Most advised us not to take her, because of the possible damage that could be inflicted from the words of a single counter-protester. 
We decided to take her anyway.
We know that Naomi will face racism. She already has. But we wanted her to experience what it's like to take it on—to go on the offensive, with her family by her side, surrounded by people who stood with her also. No doubt she'll at some point encounter racism alone. Saturday, however, we wanted to confront it together. We wanted her to learn how to fight, or at least brace against, evil.
On Friday night, my 19-year old son Austin, Naomi, and I stayed up late making T-shirts and signs, wondering what would happen. 
Here's what we saw.
In the daytime, peace reigned.
The rally in Legislative Plaza was a peaceful family event. I was relieved as we walked to the event to see other moms and dads bringing their children to the rally; some were even younger than Naomi. Even though we were late, we ended up—Forrest Gump-style—right next to the speakers, who wore masks and spoke into a megaphone. They included Nashville Mayor John Cooper, state Sen. Brenda Gilmore, state Rep. Vincent Dixie, state Rep. Mike Stewart, and state Rep. Harold Love (all Democrats). When Mayor Cooper was interrupted, event organizers demanded the crowd hear him out. They did. A minor scuffle occurred a distance away from us, but the crowd began to chant—"We want peace!"—until passions cooled moments later. More than 4,000 people attended the well—ordered event, and it was simultaneously filled with goodwill, disappointment, and genuine grief. 
The march after the rally was laden with emotion.
The rally ended at 5 p.m. as scheduled, but some of the crowd spilled out onto the streets of historic downtown Nashville. Marching in America carries a certain patriotic gravity and emotional resonance. Rarely in my life have I been in a crowd where such unbridled, complex emotion—grief, bitterness, fury, joy, sadness, pride—was on display all at once.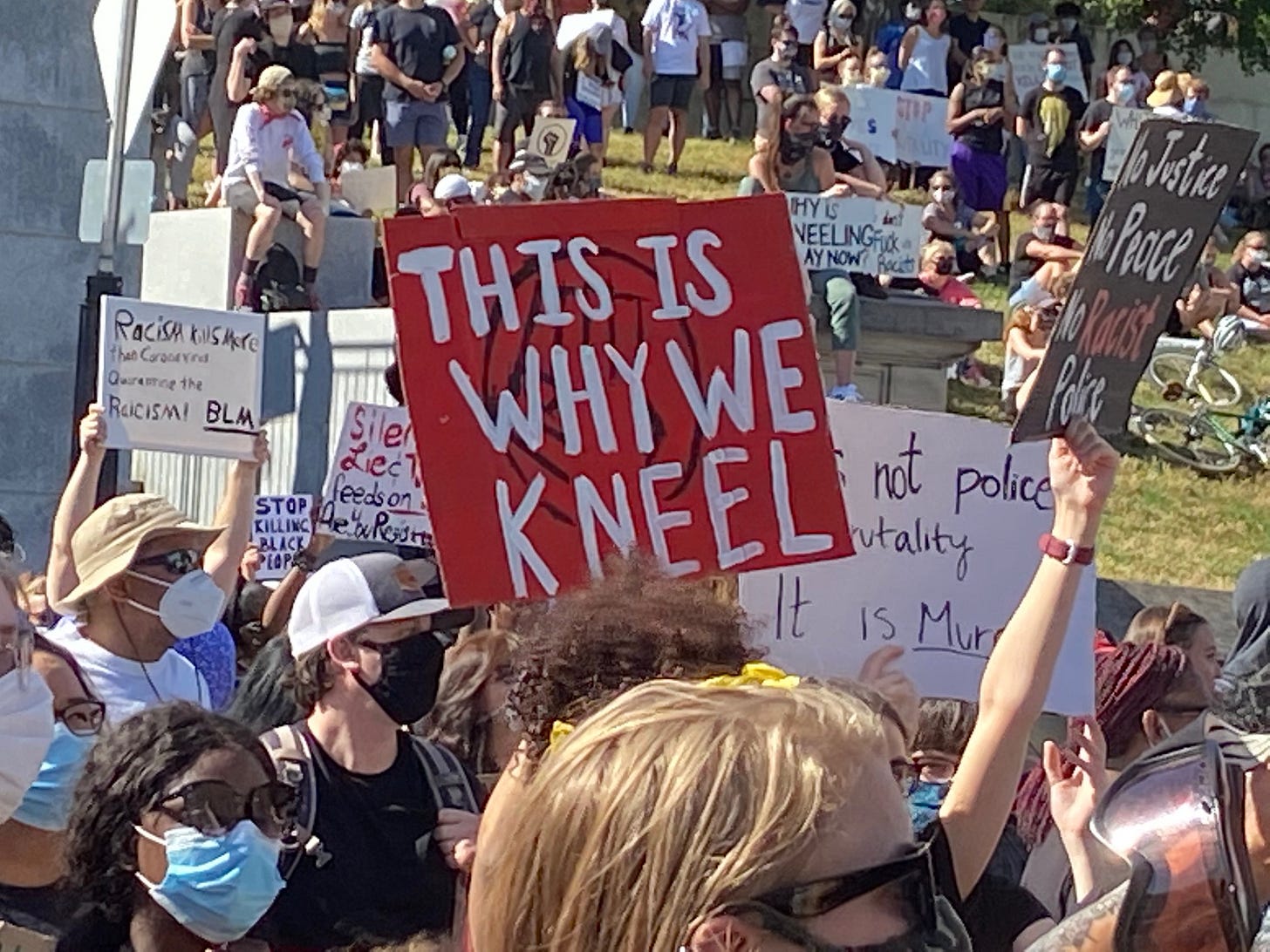 Someone yelled out the names of African Americans who've been killed by police brutality and the crowd yelled back, "We will not forget." Others chanted "f---" Donald Trump," "hands up, don't shoot," and "no justice, no peace, no racist police." 
Along the way, members of an organization were handing out cards in case people were arrested and needed bail. People on the side of the road were giving out free water. 
As we walked, people in the buildings looked out their windows, and barflies in the honky tonks looked down from their outdoor, elevated balconies. 
 "You're strong," I said to a mother carrying a baby in a car seat.  
"You gotta be for your kids." She handed her sign to another person so she could switch the weight of the carseat to the other arm. 
Agitators were among us, and we could feel the coming violence.
But the "family event vibe" lessened with every step of the march. Along the way, I heard a loud sound behind me—not loud enough for a gunshot, but the protesters, already on alert, scurried. A person had thrown a brick at one of the Nashville downtown buildings. Then another. The glass held. 
When the protesters came to a complete stop in front of the Metro Nashville Police Department's Central Precinct, I got worried. My late uncle Gary Moss, the first Metro police officer to have a canine partner, had worked at that very station.
People pulled out brought huge cement blocks, bricks, and gallons of whole milk (to neutralize pepper spray). Bricks flew through the air, hitting the windows.
The protesters near me wondered why we stopped. "Aren't we marching?" they asked. We weren't. In a flash, our peaceful march turned into the beginnings of the riot that would later run rampant through historic Music City. 
Naomi and I left. It was time to go. 
White allies are necessary, but some whites aren't allies at all.
When the police came through in riot gear, understandably worried black protesters asked white allies to make a barrier between the cops and the African American crowd, worried that Nashville cops would lash out at black protestors. Some white people volunteered, others refused. 
Though no violence had broken out at that point, it was gratifying to see some white people offer to help at least in a small way. Other whites in attendance were unfortunately unhinged. Without question, the most hysterical and fury-filled people I witnessed were white. (This was an observation echoed around the nation.)
I was only there from 3 p.m. until around 6 p.m. local time. But while I was there, I saw one white guy push an officer with all his might. He stumbled a few feet before catching himself. White people threw bricks. One white person picked up the excrement from police horses and put it on a police car with smashed windows. Another white person cheered as the car was damaged.
When they returned to the street, a black man admonished them. He explained that black people couldn't act that way without getting punished. Also, he said that people would see the damage to the police cars and blame blacks. "I couldn't do that s--T," he said, pointing out their privilege. "Then you walk the f--- away. Y'all ain't f---ing grown."
It was absurd that a black man had to step up to white people ruining a civil rights rally. How sad that there's no respite anywhere from racism popping up and ruining things.
His indignation was inspirational, and I'm glad we witnessed it before we left. I wish it could be injected into every American's veins. 
The Nashville police showed admirable restraint and professionalism.
Like many of you, I've seen videos of police across America being harsh, careless, and brutal with protestors. Not so in Nashville.
The police formed a wide perimeter around the marchers, their main goal seemingly to let people protest and stay off the interstates. When the police on horses came through the crowd, people screamed at them, kicked the horses, sprayed them with water, and hit them with full water bottles. (I saw someone hit an officer with an actual drum.) My son saw a brick bounce off a window and hit an officer in the head.
Some people were walking around the crowds smoking marijuana, then going up to police officers and blowing the smoke in their mask-covered faces. Protesters got close to one female white officer and taunted her about her children. They got in the face of a black officer and called him a traitor to his race. Both officers, visibly upset at the interactions, stayed in formation. 
Not all of these exchanges were negative. After Officer Garren Hoskins and the protester in front of him talked about their mutual Christian faith, the protester put down his sign down and the two prayed together.
Without exception, the officers let the protests occur, did their job, and did not retaliate.
Protest organizers condemned violence. The Equity Alliance tweeted, "Today's protest was peaceful and unified. We witnessed white people defacing public property while marching and told them to stop. The people now attempting to set fire to the Metro Courthouse right now are NOT associated with today's peaceful protest rally. It ain't us." (The person eventually arrested for setting fire to our historic courthouse was a 25 year old white male.)
When the rioting escalated—well after we left —Mayor Cooper issued an emergency order, police issued a 10 p.m. curfew, and Tennessee Gov. Bill Lee mobilized the National Guard. Order was quickly restored, and the Ryman auditorium—a sacred place for country music fans –suffered one broken window.
It was poignant to walk past officers as the crowd yelled "f--- the police" repeatedly. The cops didn't move, wince, or even act bothered at the crowd's exercise of their First Amendment rights. In a time of national angst, it's good to remember how much freedom we actually have and how many police still show admirable restraint and discipline.
But that notion isn't a comfort to George Floyd or the millions of people mourning his loss. Because he—with his hands in cuffs and an officer's boot on his neck—couldn't brace himself against evil.
Nancy French is a New York Times best-selling author.