A Time for American Stability—and Power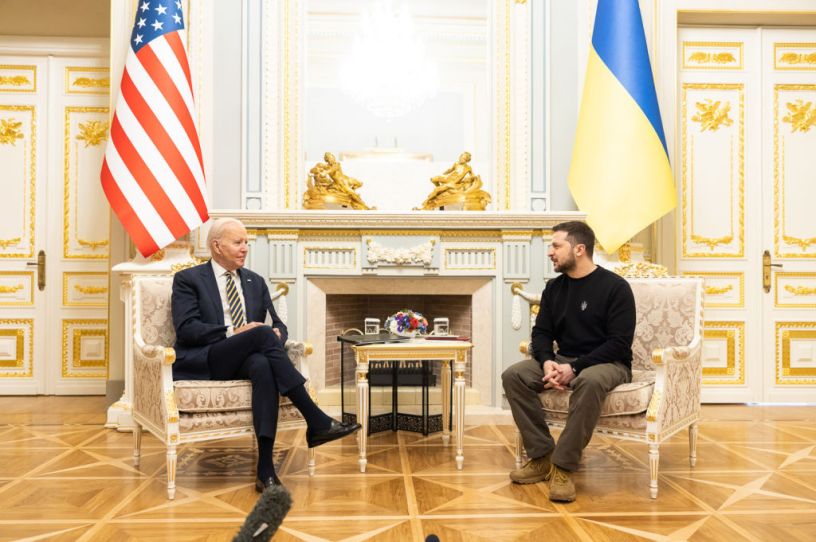 U.S. President Joe Biden meets with Ukrainian President Volodymyr Zelensky at the Ukrainian presidential palace on February 20, 2023 in Kyiv, Ukraine. (Photo by Ukrainian Presidential Press Office via Getty Images)
Signs of waning American influence are omnipresent in the Middle East. The Saudis turn the oil spigot on and off without the careful coordination that was once a hallmark of Washington-Riyadh ties, and they are also slow-rolling diplomacy with Israel despite the urging of officials in Washington. The United Arab Emirates is partnering with Chinese tech giant Huawei for its 5G network, shrugging off U.S. warnings. Other regional countries are deepening business ties with Beijing, too. Jordan is pulling away from the U.S.-brokered alliance with Israel. Meanwhile, the Israelis and Palestinians continue to balk at peacemaking efforts, despite American exhortations to return to the table.
Traditional allies in the region have not abandoned us, but some may be eyeing the exits. We could wag our fingers at them, but that's not going to solve the problem. They want American leadership, and we're not delivering.
Instead, our allies are experiencing whiplash from our wild political swings. One White House supports maximum pressure on Iran, labeling it the greatest threat to the region. The next administration seeks maximum engagement, dangling sanctions relief that will only increase the Iranian threat. One administration is transactional in nature about human rights, and the next prioritizes them. Our allies are exasperated, and they say so in closed-door meetings.
To address this problem, America must find its way back to the relative centrism that once characterized our foreign policy. Democrats and Republicans have always disagreed on much, often bitterly. But Cold War foreign policy did not change drastically from one administration to the next. Nor did the promotion of core American values. As a result, we sustained stable alliances.