Aliens and Episcopalians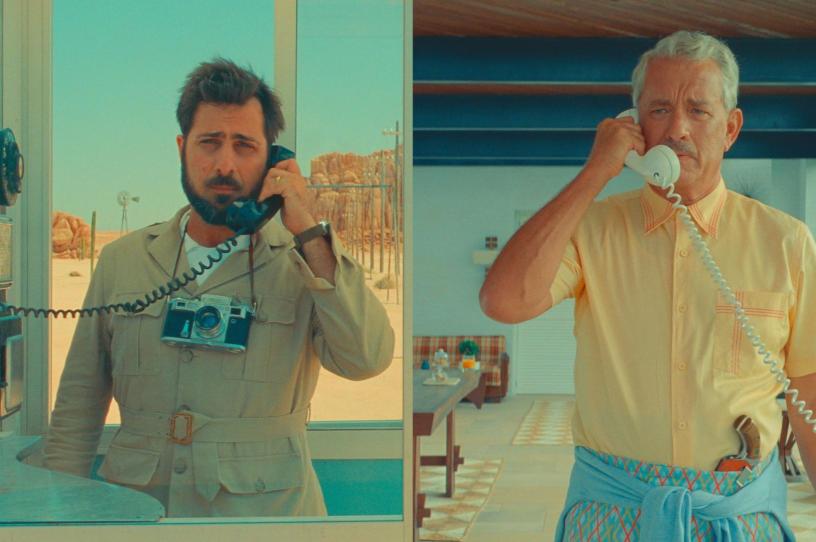 Jason Schwartzman and Tom Hanks in Asteroid City. (Photo: Courtesy of Pop. 87 Productions/Focus Features)
Editor's note: This article includes spoilers.
The characters in Asteroid City lose their faith in God. That's not a surprising outcome for a movie made in a rapidly secularizing era. What's unexpected is that the film also doubts an uncompromising, materialistic atheism.
Like many of his previous films, Wes Anderson's latest is a narrative and visual nesting doll, a story within a story within a story. Asteroid City, the movie, begins with a TV host (Bryan Cranston) narrating the opening of a 1950s variety show about the making of a play of the same name, which refers to a fictional desert town in the American Southwest where an asteroid once crashed—leaving behind small remains—and where most of the film's action takes place.
On the side of the road, next to an unfinished highway ramp, war photographer Augie Steenbeck (Jason Schwartzman) arrives at Asteroid City with his teenage son and three younger daughters. His son Woodrow (Jake Ryan) is set to participate in the Junior Stargazer convention, a program hosted by the U.S. Army for young "brainiacs" to present inventions and observe astrological phenomena. After a cryptic phone call with his father-in-law (Tom Hanks), Augie breaks terrible news to his children: Their mother has died. "Let's say she's in heaven," he tells them, "Which doesn't exist for me, of course. But you're Episcopalian."
You're out of free articles
Create an account to unlock 1 more articles