Bishops and Gadgets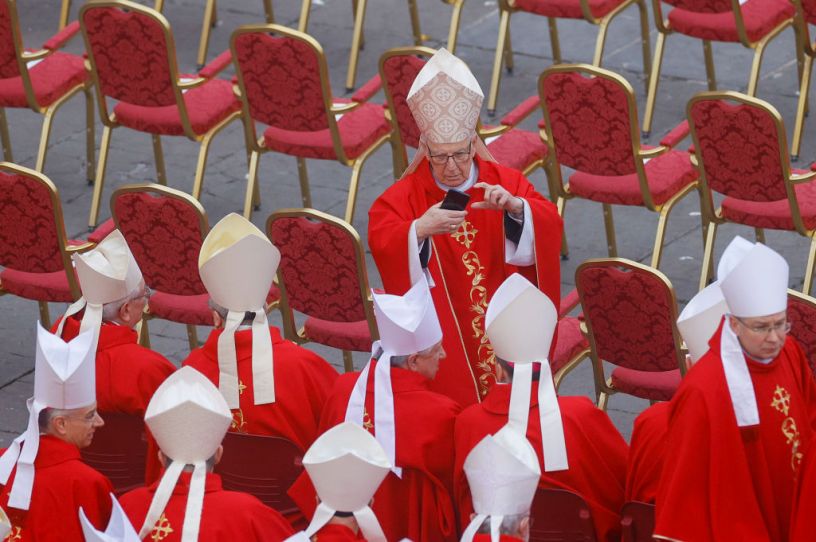 A cardinal takes a group picture of the other cardinals with a mobile phone during the funeral mass for Pope Emeritus Benedict at St. Peter's Square on January 5, 2023, in Vatican City. (Photo by Matteo Ciambelli/DeFodi Images via Getty Images)
"Is the pope Catholic?"
That used to be a punchline, a variation of traditional inquiries about where ursine egestion happens. But it is a real question now for some conservative Catholics, particularly in the United States. The issue has come to a head with the Vatican's dismissal of Bishop Joseph Strickland, who retains his episcopal title but will no longer govern his Texas diocese after pointed social media criticism of Pope Francis. 
The dispute raises cultural, ecclesiastical, and technological questions. To what extent are conservative Catholics in the United States first conservative or first Catholic? How does their cultural situation complicate these rivalrous allegiances? Why the heck is His Excellency blasting off on Twitter?
Traditionally, the Catholic Church has gone through agonies when radical advances in communication technology emerge. The most important figure of the schism that split Christendom in the 16th century wasn't Martin Luther or John Calvin—it was Johannes Gutenberg, who did his most important work in the middle of the prior century. No printing press, no Reformation.
You're out of free articles
Create an account to unlock 1 more articles