Can Democrats Pick Up a Senate Seat in the 'Bluest Red State in the Country'?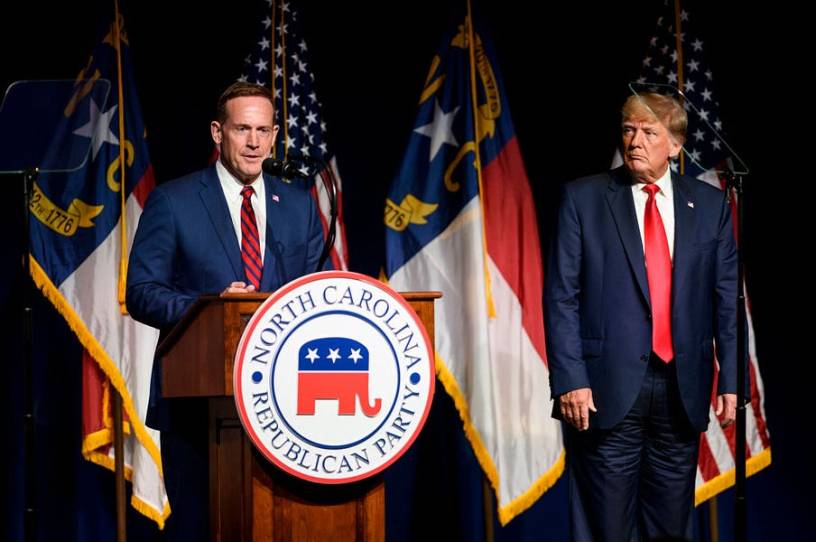 Democrats haven't won a Senate seat or a presidential race in North Carolina since 2008, when Kay Hagan and Barack Obama won their respective races. Yet of all the states Donald Trump won last November, he won North Carolina by the smallest margin. With incumbent Republican Sen. Richard Burr retiring at the end of this term, North Carolina—which Western Carolina University political science professor Christopher Cooper calls "the bluest red state in the country"—represents one of the Democrats' best pickup opportunities in the upper chamber.
But they will have to overcome a formidable challenge, as the Republican primary features an experienced field including one current and one former congressman, and a former governor. As is the case in other states, Donald Trump looms large over the Republican field. There was speculation that his daughter-in-law Lara Trump might enter the race, but she has "declined for now," and Trump endorsed Rep. Ted Budd at the state GOP convention on June 5.  It's a major shakeup to the three-way contest between Budd, former Rep. Mark Walker, and former Gov. Pat McCrory.
On the Democratic side, the political dynamics of the primary are being shaped by undercurrents of identity as state Sen. Jeff Jackson, an Army veteran, faces off against two African-American women: Cheri Beasley, the first black woman to serve as chief justice of the North Carolina Supreme Court, and former state Sen. Erica Smith, who lost in the 2020 Democratic Senate primary to Cal Cunningham.
Burr has been a fairly reliable Republican vote in the Senate since 2005, though he has fallen out of favor with the party over the last few years. In 2020, he was involved in an insider trading scandal, and this year he was censured by the North Carolina GOP after he was one of the seven Senate Republicans to vote to convict in Donald Trump's second impeachment trial.