Cary Grant at the Tokyo Olympics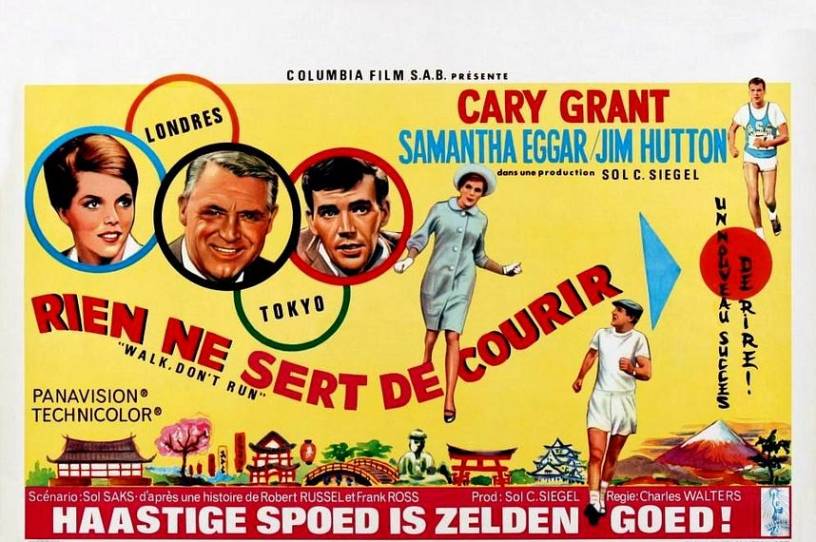 The opening ceremony at the Tokyo 2021 Olympics yesterday marked the start of the first time the Japanese capital has hosted the Olympic Games since 1964; and with a ban on international visitors, this year will look remarkably different from Olympics past. But, for a reminder of what the Tokyo Olympics would look like under normal circumstances—which is mostly to say "crowded"—we've got Walk, Don't Run, a rom-com starring Cary Grant set during Tokyo's last turn hosting the Summer Olympics.
Walk, Don't Run was actually shot on location at the Olympics, capturing how the games took over the city, filling it with not just athletes, but tourists and journalists and businessmen too. Filling it so much, in fact, that when Sir William Rutland (Grant) arrives two days before his hotel reservation, he finds there's not a single bed available in the entire city. He manages to sweet talk fellow Brit Christine Easton (Samantha Eggar) into subletting her living room to him, despite her misgivings about sharing an apartment with a man. Rutland in turn is talked into subletting half of his sublease to Steve Davis (Jim Hutton), an American athlete and architect who arrived early to see Tokyo's most impressive architectural accomplishments. Rutland decides Davis is a much better fit for Easton than her current beau, Julius P. Haversack (John Standings), and plays matchmaker. Hijinks ensue.
The film is a sweet little light comedy—Grant's last film before he retired to focus on raising his newborn daughter in 1966, making it noteworthy for that alone—that takes viewers throughout Tokyo, showcasing the city and the massive changes it underwent in preparation for the Olympics. Japan won the bid to host the 1964 Olympic Games in 1959, in the midst of its post-war economic boom. The Japanese capital, however, was still marked by the devastation of World War II and lacked key infrastructure, like an operational sewage system and a network of roads. Government officials used the Olympics as an opportunity to overhaul the city, adding modern buildings, creating highways, and finishing a bullet train project to connect the capital to other cities. This reconstruction was focused on creating a new, gleaming, modern city, and that came at the expense of more traditional Japanese buildings and at the expense of citizens whose homes were in the way of the creation of that city.
(Reuters reported the sad story of one man, Kohei Jinno, who was evicted from his home twice for Olympic construction; first in 1964 so the space could be used for the National Stadium, then again at the age of 80, once again for stadium construction.)