Checking the Record on Trump's Statements About Ron DeSantis and COVID Lockdowns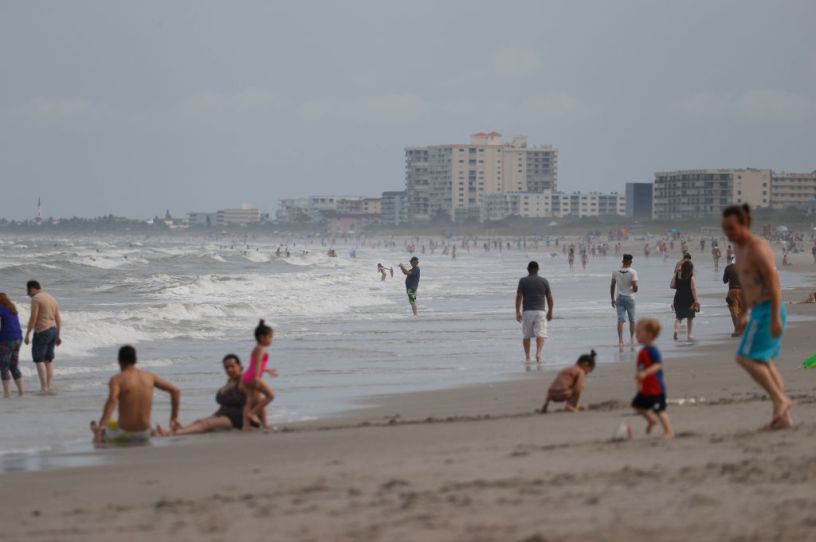 People lounge on the beach in Cocoa Beach, Florida, the United States, on May 28, 2020. (Photo by Ting Shen/Xinhua/Getty Images)
In a long interview Thursday with former Fox News host Megyn Kelly, former President Donald Trump criticized Florida Gov. Ron DeSantis for his handling of the COVID-19 pandemic in Florida. According to recent polling, DeSantis is currently the leading challenger to Trump in the 2024 Republican presidential primary race.
Trump complained that the Florida governor imposed harsh restrictions on the state for too long. "He shut down the beaches, he shut down the roads, he shut down the hospital. He was shutting down everything," Trump said in the interview. When Kelly remarked that DeSantis had fully shut the state down for only one month, Trump pushed back, saying "Oh, he shut it down for a lot longer." Trump also asserted that, even though his administration and the Centers for Disease Control and Prevention (CDC) made lockdown recommendations to states, he left it open to the governors to decide whether or not to follow its direction. "I gave [DeSantis] the right to keep [Florida] open if he wanted to. I let the governors make the determination as to whether or not to close down."
Trump's accusations against DeSantis don't match the facts on the ground during the initial stages of the pandemic response. On March 16, 2020, Trump and the CDC issued 15 Days to Slow the Spread guidance, which advised individuals to work and attend school from home, limit social gatherings, avoid eating at restaurants, and curb discretionary travel. The guidance also recommended, in states where there was evidence of community transmission, that governors close schools, bars, restaurants, food courts, gyms, and other indoor and outdoor venues where groups congregate. "If everyone makes this change or these critical changes and sacrifices now, we will rally together as one nation and we will defeat the virus, and we are going to have a big celebration all together," Trump said at the time. "With several weeks of focused action, we can turn the corner and turn it quickly."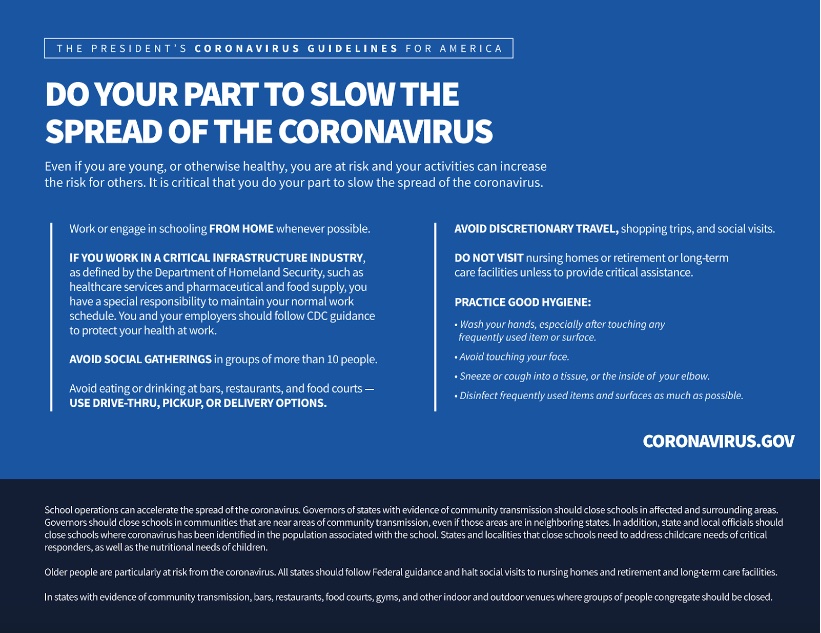 In response to these recommendations, DeSantis ordered the closure of beaches and some businesses in Broward and Palm Beach counties on March 20, 2020, via an executive order, though most decisions on beach closures in Florida were still left open to individual counties. "The closures in this order shall remain in effect in accordance with the President's '15 Days to Slow the Spread'," the order read.
"Great governor," Trump said of DeSantis in late March 2020 when asked about the governor's initial resistance to lockdown measures. "[He] knows exactly what he's doing." Vice President Mike Pence reiterated Trump's praise for DeSantis and noted that Florida had been working closely with the White House team. "Let me echo our appreciation for Gov. DeSantis' leadership in Florida," Pence said. "He has been taking decisive steps from early on and working closely with our team at the federal level." Despite his initial hesitancy, DeSantis issued statewide stay-at-home orders on April 1. The governor spoke with Trump shortly before issuing the order, and the president reportedly supported his decision.
After less than a month of comprehensive lockdowns, Florida began reopening some beaches on April 17, starting with Duval County. This directly followed the issuance of new guidelines by the Trump administration to allow for reopenings and the relaxation of social distancing restrictions. These guidelines, which the administration recommended be implemented at either the state or county level, included three phases, each of which required a 14-day period of a downward trajectory in COVID-19 cases to progress to the next.
In late April, DeSantis met with Trump, and the two were in frequent contact throughout the initial months of the pandemic. In accordance with the reopening guidelines provided by the CDC and Trump administration, Florida began its wider reopening plans on May 4, 2020.
While it is true that Trump did encourage governors to "call [their] own shots," on lockdown measures, his administration highly recommended that it and the CDC's shutdown and reopening procedures be adhered to by states. In Georgia, where Gov. Brian Kemp pushed to reopen more aggressively than prescribed by federal guidelines, Trump was openly critical. "I told the governor of Georgia, Brian Kemp, that I disagree strongly with his decision to open certain facilities, which are in violation of the phase one guidelines," Trump said. "I want him to do what he thinks is right, but I disagree with him on what he's doing." Trump was also not always as deferential to governors as he now claims. "Some in the Fake News Media are saying that it is the Governors decision to open up the states, not that of the President of the United States & the Federal Government," he tweeted in April 2020. "Let it be fully understood that this is incorrect. It is the decision of the President."
When asked for comment, a spokesperson for the Ron DeSantis campaign referred Dispatch Fact Check to remarks made by the Florida governor in two interviews last week.
"[Trump] used to praise Florida for having been open. He used to say I was one of the country's great governors. He said we handled COVID correctly and brilliantly. He was on record, always saying that. Now, because I'm a threat to him, he's now changing his tune," he said, according to a tweet by the DeSantis War Room account on X, formerly known as Twitter.
If you have a claim you would like to see us fact check, please send us an email at factcheck@thedispatch.com. If you would like to suggest a correction to this piece or any other Dispatch article, please email corrections@thedispatch.com.