Debunking the Conspiracy Theories Claiming That Antifa Led the Attack on the Capitol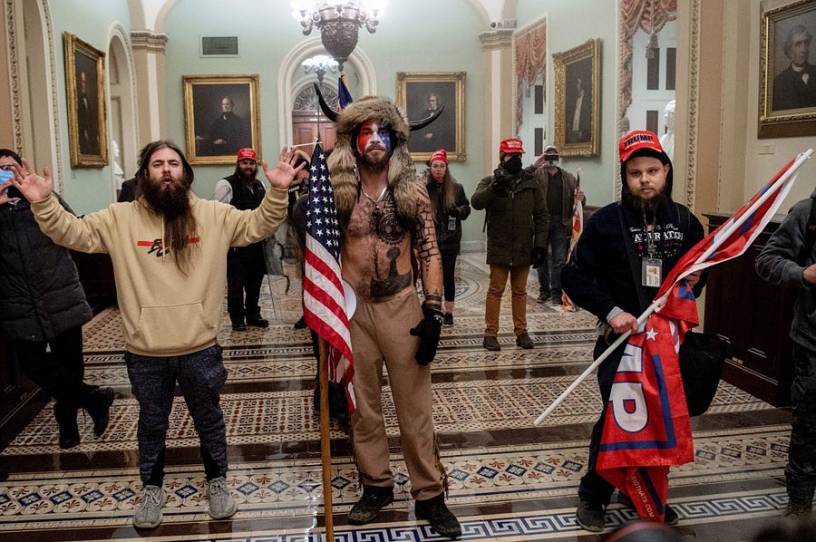 Following the storming of Capitol Hill by Trump supporters on Wednesday, many on the pro-Trump right attempted to shift blame for the attack to Antifa instead. Two connected conspiracy theories started to spread: one claiming that two men at the riot had been identified as leftists and Antifa members, the other claiming that a facial recognition software company had identified two Antifa members at the siege. Both conspiracies appear to be referring to the same two men, neither of whom have actually been identified as Antifa members—one is, in fact, a rather prominent QAnon believer—and the facial recognition software company claims it actually identified two neo-Nazis at the attack, not two Antifa members.
The New York Post shared a variant of these conspiracies in an article that claimed two rioters had been recognized as Antifa members, citing an anonymous law enforcement source. The article attempts to differentiate this conspiracy from others by noting that the two supposed Antifa members were from New York, unlike the other conspiracy theories that claimed the two Antifa members were from Philadelphia. The article does not provide information about who the two Antifa members are or how they were recognized, and does not include images or anything of substance to back up the claim. Regardless, the article went viral on social media.
These conspiracies gained incredible traction quickly, thanks to being shared by prominent figures such as Lin Wood, Sarah Palin, Texas Attorney General Ken Paxton, and Rep. Matt Gaetz, who made the claim both on social media and during a speech on the House floor. The idea that the attack was a false flag operation by Antifa has now taken on a life of its own, and many are making the claim without offering evidence based solely on the view that such behavior didn't seem typical for Republicans. Rush Limbaugh, for example, stated on his January 7 show that "Republicans do not join protest mobs. They do not loot and they don't riot. To the grand disappointment of many people. But a tiny minority of these protesters, and undoubtedly including some antifa Democrat sponsored instigators, did decide to go to the Capitol to protest the people's House." Laura Ingraham suggested on her January 6 show that the rioters might not be Trump supporters because of "those knee pads and all the pads on their elbows" which she said she'd never seen at a Trump rally before. 
Others didn't outright claim Antifa was definitely behind the attack, but attempted to cast doubt on the idea that Trump supporters were behind the chaos by "just asking questions" and encouraging people not to rush to judgement.