Did Marvin Hagler Die From the COVID-19 Vaccine?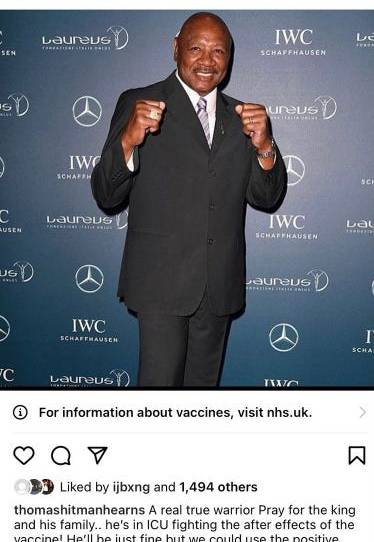 After former professional boxer Marvin Hagler died on March 13 at age 66, rumors began to spread online suggesting that he died from the COVID-19 vaccine. A widely shared Instagram post claims that "Marvin Hagler was allegedly in ICU fighting after effects of COVID vaccine."
There is no evidence to suggest that Hagler the COVID-19 vaccine contributed to his death. 
This claim originated in a now-deleted Instagram post from fellow former professional boxer Thomas Hearns, who, as reported by Business Insider, wrote that Hagler was in the ICU "fighting the after effects of the vaccine." The post, per Business Insider, read as follows: "A real true warrior Pray for the king and his family.. he's in ICU fighting the after effects of the vaccine! He'll be just fine but we could use the positive energy and Prayer for his Full Recovery!"