Did Trump Officials Commit Violations of the Hatch Act during the RNC? An Explainer.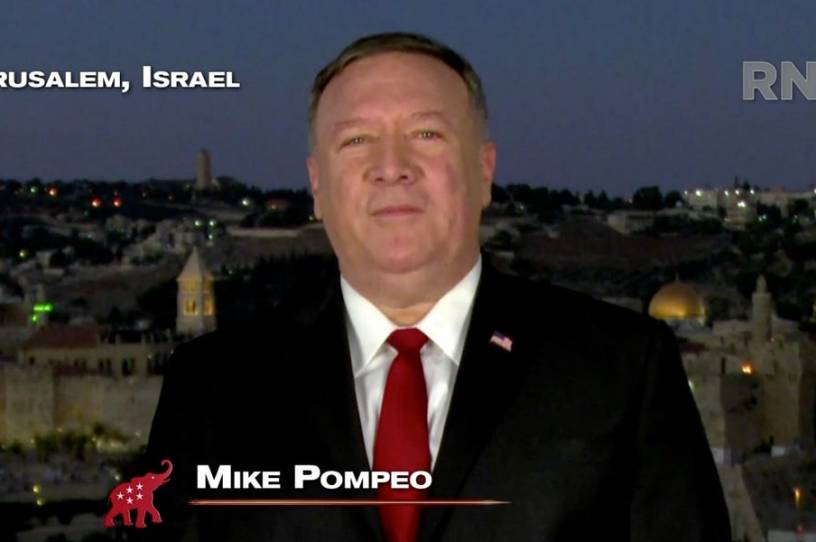 The Trump administration is facing charges of two new ethics violations as the Republican National Convention enters its final day. A speech by Secretary of State Mike Pompeo from Jerusalem and a naturalization ceremony performed by Acting Homeland Security Secretary Chad Wolf in the White House—both aired during the convention on Tuesday night—have revived calls for enforcement of the Hatch Act, a law designed to prevent federal employees acting in their official capacity from engaging in overt political activity.
How did the Hatch Act come to be? And how does it square with First Amendment speech protections? It all goes back to 1938.
As President Franklin D. Roosevelt approached his third term in office, Democratic New Mexico Sen. Carl Hatch introduced his namesake act after uncovering the substantial use of federal funds by the Works Progress Administration—a centerpiece of the New Deal—for the election of Democratic candidates in 1938. Congressional Republicans quickly took up Hatch's cause, disturbed by the seemingly unbreakable cycle of Democratic victories through the 1930s, and the bill passed in 1939 with substantial bipartisan support. 
The Supreme Court upheld the law in 1947, dismissing challenges on various constitutional grounds. And it affirmed it in United States Civil Service Commission v. National Association of Letter Carriers (1973), saying it is designed to ensure that federal service "depend upon meritorious performance rather than political service, and that the political influence of federal employees on others and on the electoral process should be limited." Citing Thomas Jefferson's concerns regarding executive overreach in political spheres, the Burger Court's decision solidified the act's limitations on federal employees—such as Cabinet members—to engage in partisan politics.