Erdoğan's Impending Victory and Turkey's Future Course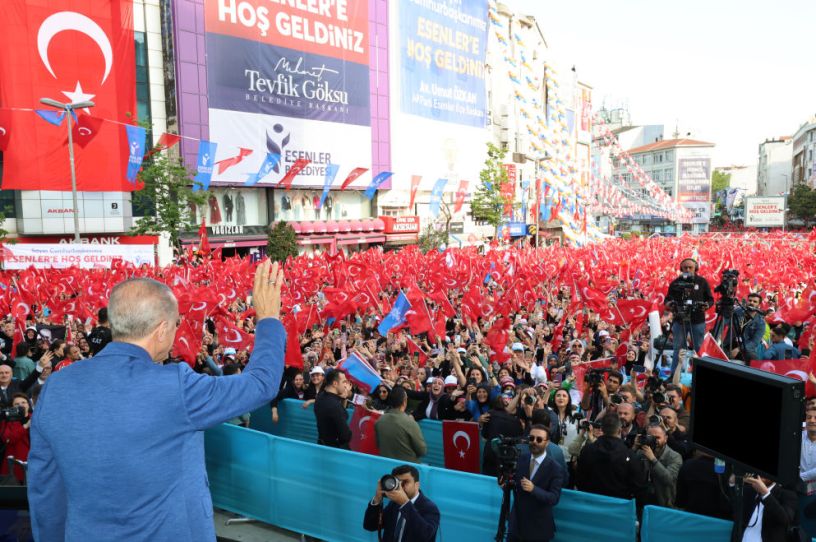 Turkish President Recep Tayyip Erdogan speaks at a rally in Istanbul, Turkey on May 26, 2023. (Photo by TUR Presidency / Murat Cetinmuhurdar / Handout/Anadolu Agency via Getty Images)
Turkish President Recep Tayipp Erdoğan is likely to be reelected to another term on Sunday despite widespread speculation that he might lose. He has already ruled the Turkish Republic for almost a decade longer than its founder, Mustafa Kemal Atatürk, and his victory at the polls will undoubtedly keep Turkey on its increasingly nationalist and authoritarian trajectory. As a result, it is worth reflecting on why he appears to have defied the odds and what his likely victory means for Turkey's future course at home and abroad.
Why did people think Erdoğan was vulnerable in the election?
Erdoğan appeared vulnerable because he had thoroughly mismanaged the economy (45 percent inflation, down from 80 percent in the fall), COVID response, and earthquake relief. Moreover, he was personally associated with Turkey's Syria policy, which had brought more than 4 million Syrian refugees into Turkey. Those refugees have become a target of popular anger as economic conditions in Turkey have worsened. Not to mention that corruption in the ranks of his Justice and Development Party (AKP)—including up to and including the president's family—as well as his increasing authoritarianism suggested that he was more vulnerable than at any time in his 20-plus years ruling Turkey. Polling for the first round of the election on May 14 suggested that he was running behind all of the prospective candidates; even Kemal Kılıçdaroğlu—generally considered the weakest potential opponent—had been outstripping him in trial heats. After the earthquake in February, some polls showed Erdoğan behind by as much as 10 to 12 percent. No one has ever made money betting against Erdoğan in Turkish politics, but his vulnerabilities were undeniable.
How did he best Kılıçdaroğlu in the May 14 balloting?