Explaining New York's Red Wave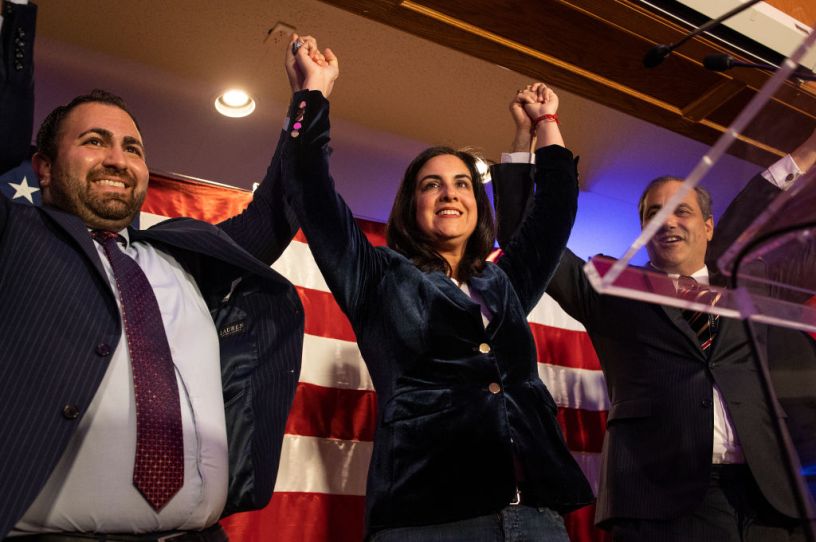 Staten Island Republican Rep. Nicole Malliotakis celebrates her re-election on November 8. (Photo by Andrew Lichtenstein/Corbis/Getty Images.)
Last spring, liberals in New York were giddy: Democrats running the state legislature jumped at the chance to redraw the state's congressional map in the party's favor and deliver big midterm gains.
But they ran into a big problem: Their overtly partisan map turned out to be an overly ambitious bet. In April, a judge threw it out and, seven months later, New York congressional Democrats experienced one of their worst midterm performances in years. Republicans flipped four seats total and will control 10 of the Empire State's now 26 seats.
Republicans cite a number of factors for New York's immunity from the GOP's otherwise lackluster midterm performance this cycle. "Crime was off the hook and I think people are truly afraid of the crime issue," said retiring Rep. John Katko of New York, one of 10 House Republicans who voted to impeach former President Donald Trump last year. He also credited Republican gubernatorial candidate Lee Zeldin, who "ran a really good campaign and highlighted a lot of those issues, and I think that was a determining factor."
Zeldin hit Gov. Kathy Hochul on crime throughout the cycle, stumping on the state legislature's decision in 2019 to eliminate cash bail for misdemeanors and some nonviolent felonies. But the stump speech turned into a survivor story this summer when a man who attacked Zeldin during a campaign stop in Rochester was released from prison just hours after he was arrested. And during an October debate, Hochul equated Zeldin's concerns about crime with wanting to lock up as many criminals as possible. "I don't know why that's so important to you," Hochul said.