Explaining the Allegations That Jim Jordan Covered Up Sexual Abuse at Ohio State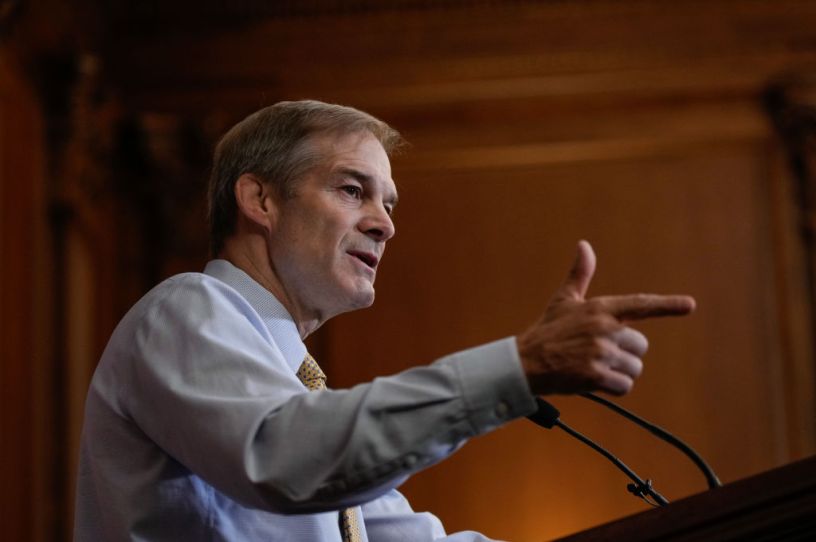 Rep. Jim Jordan holds a press conference at the U.S. Capitol on October 20, 2023. (Photo by Drew Angerer/Getty Images)
It appears that Rep. Jim Jordan of Ohio will not be the speaker of the House, having lost a secret ballot in a House Republican Conference meeting on Friday after losing his third floor vote earlier that day. But during his run for the speakership, allegations that he covered up a sexual abuse scandal while serving as an assistant wrestling coach at Ohio State University—which first emerged in 2018—came to the forefront.
Jordan coached at Ohio State between 1987 and 1995. In 2018, a number of former wrestlers came forward with accusations that Richard Strauss, an athletic department physician, had abused them. A 2019 investigation determined that Strauss had sexually abused at least 177 male patients between 1978 and 1998, a plurality of whom were on the university's wrestling team. Several former wrestlers have stated that the environment in their training facility—Larkins Hall—was also uncomfortable and sexually deviant. Six of them told Politico in 2018 that they were "regularly harassed in their training facility by sexually aggressive men who attended the university or worked there," and that "voyeurs would masturbate while watching the wrestlers shower or sit in the sauna, or engage in sexual acts in the areas where the athletes trained."
Jordan himself was never accused of any form of abuse, but he has received criticism from a number of former wrestlers who claim that he knew of the abuse and did nothing to stop it. "We talked about it all the time in the locker room," David Range, a former OSU wrestler, told the Washington Post in 2018. "Everybody joked about it and talked about it all the time," he added. One of Jordan's earliest critics—former wrestler Mike DiSabato—told NBC News that "[Jordan] is absolutely lying if he says he doesn't know what was going on." However, Politico also reported that DiSabato had a long-standing feud with the university and a number of run-ins with Jordan's family.
Jordan has routinely denied that he was ever aware of Strauss' misconduct. "It's not true," Jordan told Politico in a 2018 interview. "I never knew about any type of abuse. If I did, I would have done something about it. And look, if there are people who are abused, then that's terrible and we want justice to happen."
A number of former wrestlers and coaches have also come to Jordan's defense. "He's the most honest person I've ever met," Michael Alf, a former wrestler told the Washington Post. "The thing is, if he saw something like that, he wouldn't have tolerated it. … If [Jordan] says he didn't know, I believe him." An anonymous former wrestler made similar remarks to the Washington Post. "It's way more likely that [he] didn't know than did know," the former wrestler said. "We were so guarded around these guys. … I think the only reason he's being dragged into it is because of his political stature, and I think that's terrible." Similarly, six coaches who formerly worked with Jordan released a statement backing him against allegations of wrongdoing. "What has been said about Jim Jordan is absolutely wrong," the Washington Post reported in another story. "We all worked on the wrestling coaching staff during Jim's tenure at The Ohio State University. None of us saw or heard of abuse of OSU wrestlers."
Ohio State hired the law firm Perkins Coie to conduct an independent investigation into allegations against Strauss. In 2019 the university released an extensive report detailing Strauss' time at OSU and accusations from student athletes. The report determined that university personnel had knowledge of the abuse as early as 1979, but that no complaints were elevated beyond the athletics and student health departments until 1996, when Strauss was suspended from his activities as a treating physician.
There is no evidence to either support or refute the claim that Jordan knew about sexual assault allegations against Strauss beyond testimony from former wrestlers and coaches. These testimonies fall on both sides of the issue. While the Perkins Coie report makes it clear that the university failed in both escalating and addressing Strauss' misconduct, there were no direct accusations of wrongdoing against Jordan within it.
If you have a claim you would like to see us fact check, please send us an email at factcheck@thedispatch.com. If you would like to suggest a correction to this piece or any other Dispatch article, please email corrections@thedispatch.com.