Fact Check: Chelsea Clinton Has Not Advocated "Force-Jabbing" Unvaccinated Children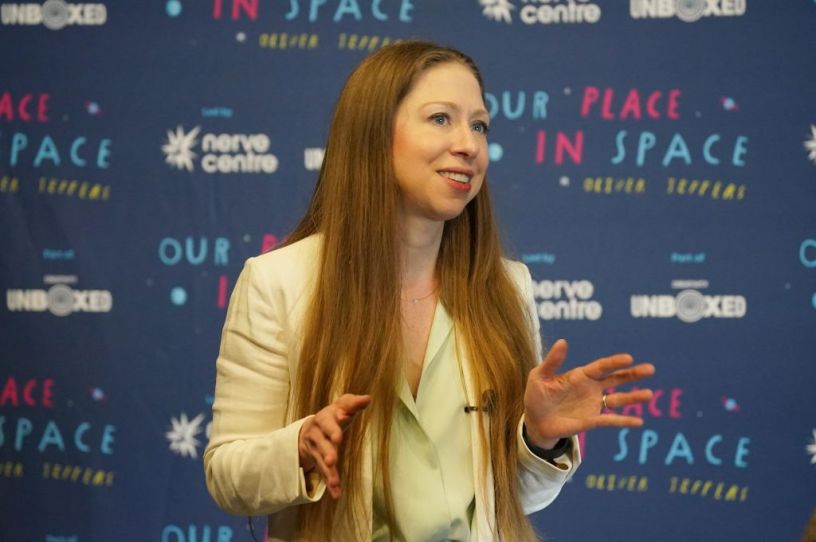 Chelsea Clinton at the Lyric Theatre in Belfast on June 29, 2022. (Photo by Niall Carson/PA Images via Getty Images)
Claims are circulating online among social media users that Chelsea Clinton, the daughter of former President Bill Clinton and former Secretary of State Hillary Clinton, has said that "it's time to force-jab every unvaccinated child in America." These claims are false.
The posts in question include a screenshot from an article published by The People's Voice which mischaracterizes Clinton's involvement with "The Big Catch-Up," an initiative undertaken by the World Health Organization, UNICEF, and the Bill & Melinda Gates Foundation, among other bodies. The purpose of the initiative is to regain ground that was lost in terms of childhood immunization against non-COVID-19 viruses during the COVID-19 pandemic. The People's Voice article claimed that Clinton "declared that unvaccinated children in America must be forced to take the mRNA jab with or without parental consent."
A spokesperson for Chelsea Clinton told The Dispatch Fact Check that "she did not say this but very much believes (and did say) that no one should die of polio, measles, or pneumonia, including in this country where we need people to be vaccinating their kids."
Clinton spoke about the importance of childhood vaccinations at a conference on April 25, 2023, but at no point during her remarks, which can be viewed in full here, did she suggest that vaccinations should be forced upon children, with or without the consent of her parents.
The Dispatch Fact Check has contacted The People's Voice for comment.
If you have a claim you would like to see us fact check, please send us an email at factcheck@thedispatch.com. If you would like to suggest a correction to this piece or any other Dispatch article, please email corrections@thedispatch.com.