Fact Check: Did a CDC Deputy Director Say the COVID Vaccines Cause Illnesses?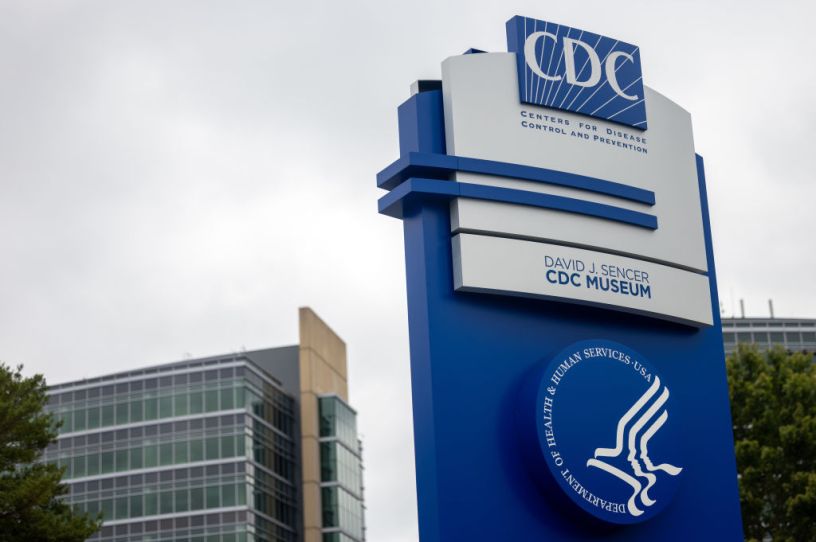 The Center for Disease Control headquarters in Atlanta. (Photo by Nathan Posner/Anadolu Agency/Getty Images)
Claims are circulating online that Dr. Tom Shimabukuro, the deputy director of the Centers for Disease Control and Prevention, has said that the COVID-19 vaccines have caused debilitating illnesses and side effects. These claims are false.
The claims are based on remarks made by Shimabukuro during the January meeting of the Food and Drug Administration's Vaccines and Related Biological Products Advisory Committee, which can be viewed in full online here. Some of Shimabukuro's remarks have been taken out of context by social media users to suggest he admitted that the vaccines have caused "long lasting health problems."
Here are the comments from Shimabukuro that social media posters are citing:
We take vaccine safety very seriously. With respect to reports of people experiencing debilitating illnesses, we are aware of these reports of people experiencing long lasting health problems following COVID vaccination. In some cases, the clinical presentation of people suffering these health problems is variable and no specific medical cause for the symptoms have been found.

We understand that illness is disruptive and stressful, especially under those circumstances and we acknowledge these health problems have substantially impacted the quality of life for people and have also affected those around them. We hope for improvement and recovery and we will continue to monitor the safety of these vaccines and work with partners to try to better understand these types of adverse events. 
The clip concerned accounts of illness reported to the Vaccine Adverse Event Reporting System (VAERS), which allows individuals to report possible vaccine side effects they've experienced to the CDC and the FDA for monitoring. However, as The Dispatch Fact Check has noted before, the data reported to VAERS is unvetted and unverified. This is a way for the CDC and the FDA to crowd-source information about possible side effects that slipped through the net of clinical trials. Put another way, it is a record of correlation between vaccination and illness and not a record of medically attested causation of illness by vaccination. As the disclaimer on the VAERS website reads, "VAERS reports may contain information that is incomplete, inaccurate, coincidental, or unverifiable. Reports to VAERS can also be biased. As a result, there are limitations on how the data can be used scientifically. Data from VAERS reports should always be interpreted with these limitations in mind."
During the recorded meeting Shimabukuro himself characterized VAERS as "a spontaneous reporting system."
"Anyone can report — a patient, a parent, a healthcare provider," he said, "and we accept all of those reports without judging the clinical seriousness or how plausible the adverse event may be with respect to causation."
A spokesman from the CDC told The Dispatch Fact Check: 
VAERS accepts all reports of adverse events regardless of the plausibility of the vaccine causing the event or the clinical seriousness of the event. CDC is aware of reports of people experiencing debilitating and long-lasting health problems following COVID-19 vaccination. In some cases, the clinical presentation of people suffering these health problems is variable and no specific medical cause for symptoms has been found. Currently, there are no epidemiologic data from safety monitoring to suggest that COVID-19 vaccines are causing these types of health problems.
If you have a claim you would like to see us fact check, please send us an email at factcheck@thedispatch.com. If you would like to suggest a correction to this piece or any other Dispatch article, please email corrections@thedispatch.com.