Fact Check: Did Sen. Mark Kelly Say Katie Hobbs Should 'Run a Better Campaign'?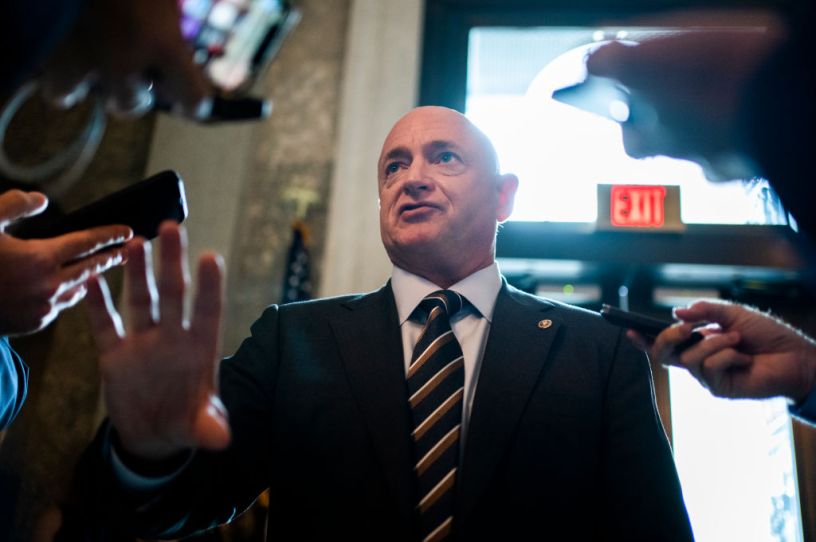 Sen. Mark Kelly. (Photo by Tom Williams/CQ-Roll Call/Getty Images.)
An NBC News interview segment featuring Democratic Sen. Mark Kelly speaking about his decision not to campaign with Democratic Secretary of State Katie Hobbs, his party's gubernatorial nominee, is going viral on Twitter. The original tweet was posted by Ben Petersen, the communications director for the Republican National Committee, and has been shared by GOP gubernatorial candidate Kari Lake and Arizona GOP Chairwoman Kelli Ward, among others.
The video in question purportedly shows Kelly explaining his decision not to campaign with Katie Hobbs and saying that Hobbs should "run a better campaign."
Here is Kelly's response according to Petersen's tweet: "Hey, we each make our own decisions about how to run our campaign. I have a campaign that's built to win […] What I suggest they do is just run a better campaign."
Lake's characterization of the clip was similarly misleading, claiming that Kelly "just threw @katiehobbs completely under the bus."
But, Kelly was not referring to Hobbs' campaign. He was referring to the campaigns of Lake and Trump-endorsed Senate candidate Blake Masters. Petersen's tweet took Kelly's answer out of context, misrepresenting his response.
The full clip can be viewed here.
During the interview, NBC News correspondent Vaughn Hillyard asks Kelly: "Why not campaign with Katie Hobbs?" In response Kelly says: "… our paths cross on the campaign trail, we're out there, we're working together for our mission for Arizona, getting people out, knocking on doors."
Later in the conversation, and relevant to Petersen's viral tweet, Kelly called Masters' and Lake's repeated lies about the 2020 election "dangerous to our democracy."
"My opponent is questioning an election that is 20 days away," Kelly said. "Last time he didn't like that his guy lost, now he is worried about this election already. This is dangerous to our democracy. Kari Lake is doing it, Blake Masters is doing it. What I suggest they do is run a better campaign, and then accept the results."
If you have a claim you would like to see us fact check, please send us an email at factcheck@thedispatch.com. If you would like to suggest a correction to this piece or any other Dispatch article, please email corrections@thedispatch.com.