Fact Check: Does Pfizer Say Its COVID-19 Vaccine Is Unsafe for Pregnant Women?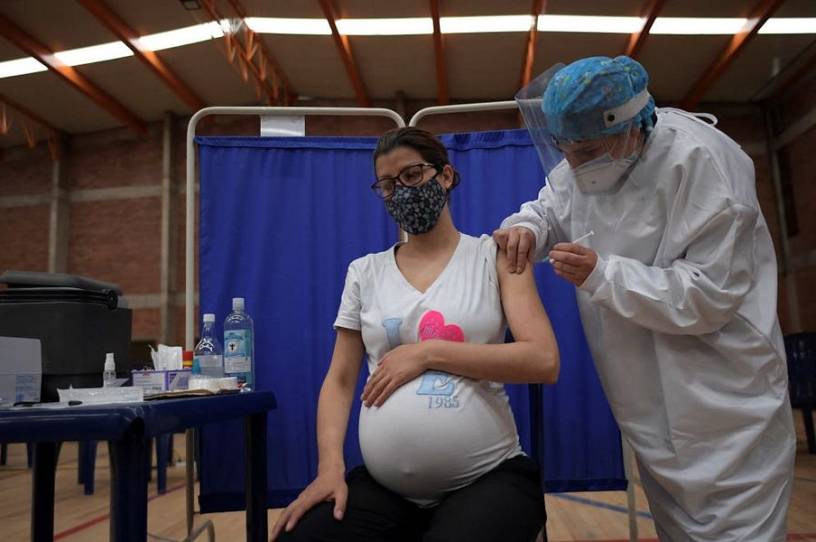 A viral Facebook post claims that according to recent "Pfizer documents," the company's COVID-19 vaccine is unsafe during pregnancy or breastfeeding. The social media post claims to share Pfizer research but actually shares a screenshot of a 2020 document from the United Kingdom's Medicines and Healthcare products Regulatory Agency (MHRA), as Reuters noted. The 2020 document, known as "Regulation 174," provides information for U.K. health care providers. 
The 2020 version of the document, which is the version circulating on social media, did not originally recommend pregnant women be vaccinated with the Pfizer vaccine: "There are no or limited amount of data from the use of COVID-19 mRNA Vaccine BNT162b2. Animal reproductive toxicity studies have not been completed. COVID-19 mRNA Vaccine BNT162b2 is not recommended during pregnancy."
The document further says: "For women of childbearing age, pregnancy should be excluded before vaccination. In addition, women of childbearing age should be advised to avoid pregnancy for at least 2 months after their second dose."
However, the document has since been updated with new guidance on vaccination and pregnancy. The most updated version of "Regulation 174," from May 5, 2022, now says: "Animal studies do not indicate direct or indirect harmful effects with respect to pregnancy, embryo/foetal development, parturition or post-natal development." The current document also says: "Animal studies do not indicate direct or indirect harmful effects with respect to reproductive toxicity."
Laura Kennedy, a  spokesperson for the MHRA told the Dispatch Fact Check via email that the 2020 document was the agency's assessment "at the time of approval for the vaccine. Since then new data which has come to light (both non-clinical and post-authorisation 'real world' data) which supports the updated advice on vaccinating those who are pregnant and breastfeeding."
"Over 104,000 pregnant people have received at least one dose of COVID-19 vaccine in England and Scotland and no concerns of the safety of the vaccines have been raised," Kennedy said. "This conclusion is also supported by extensive international data from the rollout of the vaccines in other countries.There is also no current evidence that COVID-19 vaccination while breastfeeding causes any harm to breastfed children or affects the ability to breastfeed."
In an interview with The Dispatch Fact Check, Kevin Ault, professor of obstetrics and gynecology at the University of Kansas, noted that excluding pregnant women from early vaccine trials is done fairly routinely, so it's no surprise that pregnant women were excluded in the early 2020 vaccine trials. After March 2020, though, Ault explained, large studies showed that COVID was a threat to pregnant women. 
"We were beginning to get this data like most pandemic viruses that COVID was bad for pregnancy," Ault said. He also noted that one of the first groups given the vaccine were healthcare workers, who happen to skew younger and female, so within that population there were pregnant women who received the vaccine early on. 
"We know it's not associated with miscarriage or inferitlity or some of the other problems that have been blamed on vaccines in the past," Ault said. 
A spokesperson for Pfizer also told The Dispatch Fact Check via email: "The vaccine has been shown to be safe and effective for pregnant mothers and is recommended by global health agencies around the world, such as the World Health Organization and the U.S. Centers for Disease Control and Prevention."
According to the Centers for Disease Control and Prevention: "COVID-19 vaccination is recommended for people who are pregnant, breastfeeding, trying to get pregnant now, or might become pregnant in the future.
Per the World Health Organization: "COVID-19 vaccines approved for use by WHO can be taken by people who are menstruating, pregnant, trying to get pregnant, or breastfeeding."
We have also fact-checked the viral false claims that the COVID-19 vaccines cause miscarriages and female infertility.
If you have a claim you would like to see us fact check, please send us an email at factcheck@thedispatch.com. If you would like to suggest a correction to this piece or any other Dispatch article, please email corrections@thedispatch.com.