Fact Check: Photos of Donald Trump Being Arrested Are Fake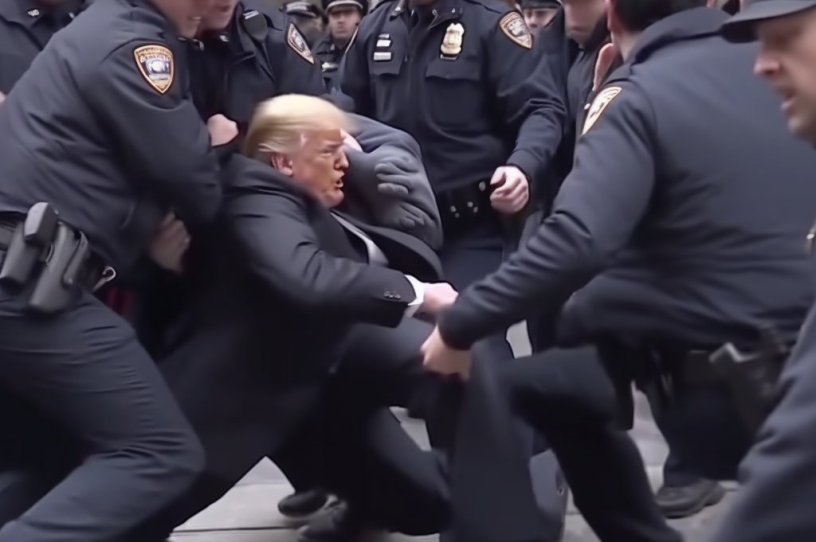 This article has been updated with a statement from Eliot Higgins, who created the images being circulated.
Images are circulating online that purport to show the arrest of former President Donald Trump by New York police officers. The images are not authentic. They were produced using Midjourney, an artificial text-to-image generator that has the capacity to render photo-realistic images based on a written verbal description. 
The images have caught fire on social media amid news that Trump could be indicted by a Manhattan grand jury on charges relating to an alleged hush money payment to porn star Stormy Daniels. Trump himself has recently predicted that he would be arrested on these charges, although the date on which he said he expected to be taken into custody has come and gone.
The fake images were originally generated by Eliot Higgins, the founder and creative director of Bellingcat, a Netherlands-based investigative journalism group. Higgins posted the photos as part of a viral Twitter thread of March 20 in which he clearly communicated that they were made artificially and not to be taken as actual photographs.
In a different Twitter thread dated March 16, Higgins posted images that he said were attempts to create "realistic news images" using Midjourney's latest Version 5 software. These include fabricated images of a peace summit between Presidents Biden and Putin, as well as fabricated images of Trump's arrest. The viral images from the March 20 thread appear to have been created using the same software.
Higgins provided The Dispatch Fact Check with the following statement regarding the thread of fabricated images: "It was mainly intended to be an example of Midjourney's capabilities, I've done a few threads like that before, but this one went viral. It wasn't intended to deceive anyone."
Donald Trump has not been arrested at the time of writing. 
If you have a claim you would like to see us fact check, please send us an email at factcheck@thedispatch.com. If you would like to suggest a correction to this piece or any other Dispatch article, please email corrections@thedispatch.com.