Five Words of Wisdom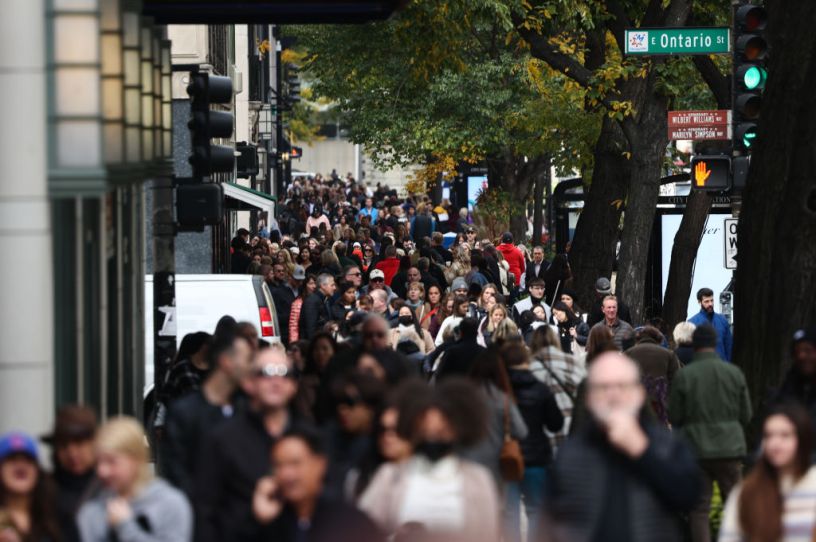 People walking down the street in Chicago. (Photo by Jakub Porzycki/NurPhoto/ Getty Images)
If you have ever spent any time around one of the more demonstrative forms of Christianity, you may have noticed that it is very, very rare for someone to walk up the aisle and tearfully prostrate himself before the altar because his life is going so well. It's the desperate times of life that more reliably bring us to our knees (or all the way down). Because politics has to a shocking extent supplanted the role of religion in American life—including in many institutions that think of themselves as Christian churches—one can see the same phenomenon at work in the political realm. Ecstatic politics requires a crisis; gratitude is not a powerful enough emotion—what is required is terror, or at least its 2 percent, half-caff version, anxiety.
That is why we are engaged in all this preposterous talk about how poorly the U.S. economy is doing when the opposite is the case: The U.S. economy is a remarkable, stupendous, world-beating success story. We should take a second to appreciate that fact and how it came to be.
Do you remember 1995? That was a pretty good year. The economy was growing, and the rate of growth was increasing. The post-Cold War dividend was starting to really kick in, the Internet was starting to take off (Netscape Navigator had been introduced in 1994), and market returns were just bananas. Starting from the closing weeks of 1994, the DJIA, the S&P 500, and the Russell 1000 nearly tripled over the next five years, while the NASDAQ grew almost 500 percent in five years. The U.S. economy was such a powerhouse that U.S. GDP accounted for almost a quarter of the economic output of the human race, about 24 percent.
Today, after the rise of China as a global economic power, after the financial crisis of 2007-08, the Great Recession, and all that, U.S. GDP as a share of world economic output has fallen all the way to … the same 24 percent, as it turns out. In fact, that current share is up a bit over recent years: As recently as 2011, it was only 21 percent.
Get every newsletter and all of The Dispatch. Support quality, fact-based journalism.
Get Started
ALREADY HAVE AN ACCOUNT? SIGN IN