For Glenn Youngkin, Home Is Where the Heart Appears to Be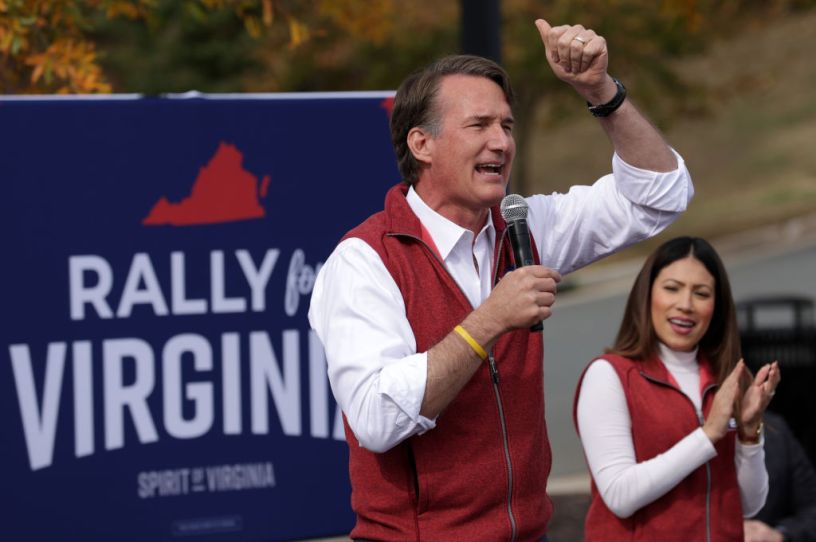 Virginia Gov. Glenn Youngkin speaks during a campaign rally on October 28, 2022, in Stafford, Virginia. (Photo by Alex Wong/Getty Images)
PETERSBURG, Virginia—Gov. Glenn Youngkin, first lady Suzanne Youngkin by his side on a late summer afternoon, reads The Story of Ferdinand to a class of eager black and Hispanic third graders inside a bright, cheery public school library in this diverse, working class community 25 miles south of the state capital.
Youngkin tells the kids the classic children's book is an old favorite as he begins to read the tale of a formidable, seemingly fierce young bull who—contra his peers—has zero interest in bullfighting and resists attempts to prod him into the ring, preferring to lounge under a treasured tree and smell flowers. Perhaps the irony of the story is not lost on the governor. Some wealthy Republican campaign donors, unhappy with the GOP's White House contenders and dismayed by former President Donald Trump's domination of the primary, are imploring Youngkin to mount a late bid for the 2024 nomination.
But, as Ferdinand seemed content to stay under his tree, the governor appears exceedingly content to govern in Richmond and rather disinclined to enter the national political ring. Not that Youngkin is oblivious to the benefits his celebrity affords in megadonor circles. By leaving the door cracked open to a presidential campaign, the governor is leveraging his status as a potential white knight to raise gobs of campaign cash. He's investing that money in a sophisticated operation aimed at capturing full control of the Virginia General Assembly this November.
"I've been incredibly relieved and also encouraged by the support for what we're doing, that folks have seen that with common sense conservative principles and governing, you can move at an amazing pace, you can accomplish real results that impact people every single day," Youngkin tells reporters here in Petersburg, responding to a question from The Dispatch after the event at Pleasants Lane Elementary School. He was there to promote a tutoring program he wants to make available to all Virginia public school students.
You're out of free articles
Create an account to unlock 1 more articles