Georgia Republicans Stick With Kemp by a Wide Margin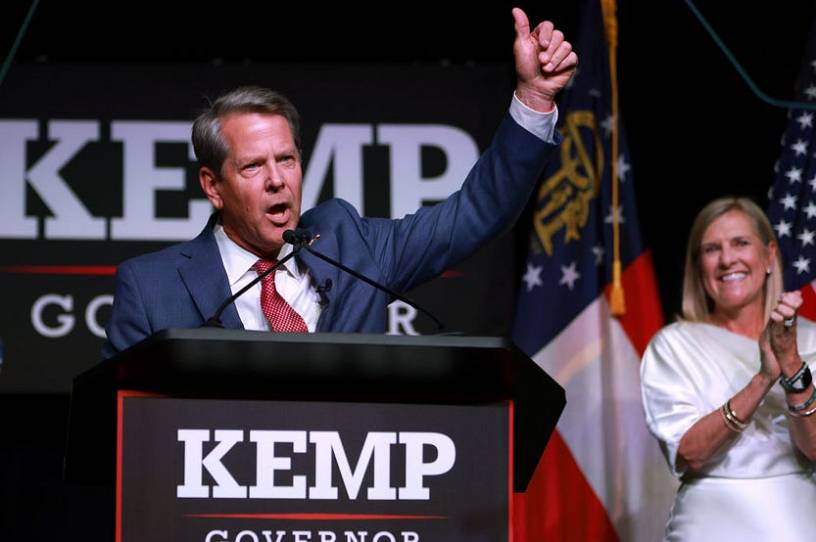 ATLANTA—Eighteen minutes before polls closed in Georgia's primaries Tuesday night, workers wheeled tubs of iced champagne through the College Football Hall of Fame.
Though likely standard fare for the open bars flanking Georgia Gov. Brian Kemp's election watch party, the celebratory staple wasn't out of place. No one walking into the party doubted what the Republican gubernatorial primary's result would be. The question was the margin of Kemp's victory.
In the months ahead of Tuesday's Republican primaries in Georgia, former Sen. David Perdue's challenge against Gov. Brian Kemp had been billed as a centerpiece of Donald Trump's "revenge tour"—retribution against those Republicans who failed to line up behind his abortive attempt to steal the 2020 election from Joe Biden. Kemp's transgression was failing to call a special session of the legislature to let Republicans try to impanel an "alternate" slate of Trump-supporting electors despite Biden's victory in the state. In recent months, Trump traveled to Georgia to stump for Perdue and to castigate Kemp as a "RINO" and a "turncoat," a "coward" and a "complete and total disaster."
But in the end, it just wasn't close. Less than two hours after voting ended, with only about 10 percent of precincts reporting, major outlets started sticking a fork in Perdue. With 95 percent of the ballots counted as of Wednesday morning, Kemp is on track to win by 52 percentage points (74 percent to Perdue's 22 percent).
You're out of free articles
Create an account to unlock 1 more articles