GOP Contenders Overhype Plans to Overhaul the DOJ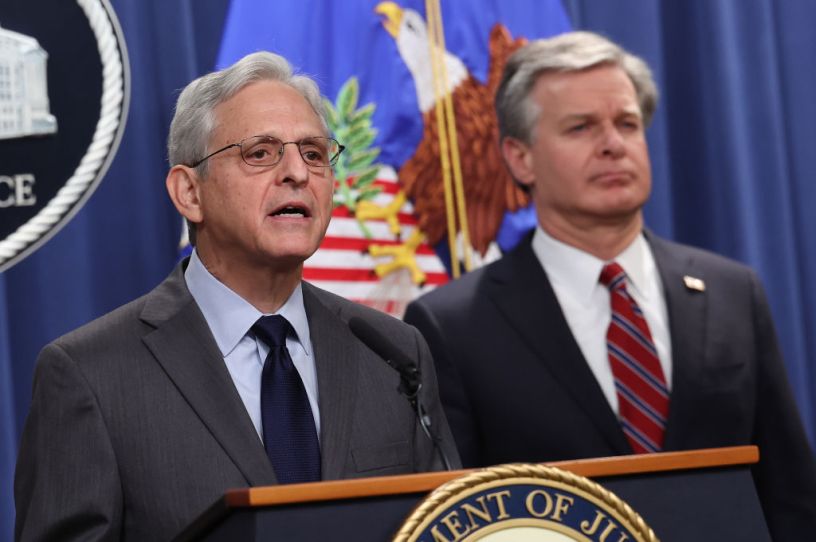 Attorney General Merrick Garland and FBI Director Christopher Wray hold a press conference at the Department of Justice on on October 24, 2022. (Photo by Kevin Dietsch/Getty Images)
Most Republican presidential contenders are promising big changes at the Department of Justice if they win the White House. "Clean house," some say. "Complete overhaul," say others. Their plans may sound radical and unprecedented. They're not.
Every new president effectively fires senior personnel at the Department of Justice, and their deputies—numbering in the hundreds—upon taking office. The fleet of U.S. attorneys overseeing federal judicial districts? With a few exceptions, they also get pink slips. It's all part of a standard changing of the guard as the outgoing chief executive's political appointees voluntarily depart, and his successor's political appointees take their place.
Some Republican candidates this cycle are suggesting that their plans to exercise this commonly used authority are cutting edge, daring, different. There is scant evidence to back that up. Other Republicans are proposing action that would qualify as uniquely aggressive—like gutting the agency's bureaucracy. But any attempt to do that would run into roadblocks in Congress.
"You're not going to fire civil servants. That's posturing," says a Republican attorney who worked at the Department of Justice during the Trump administration.