How Sanctions Can Help Bring Home American Hostages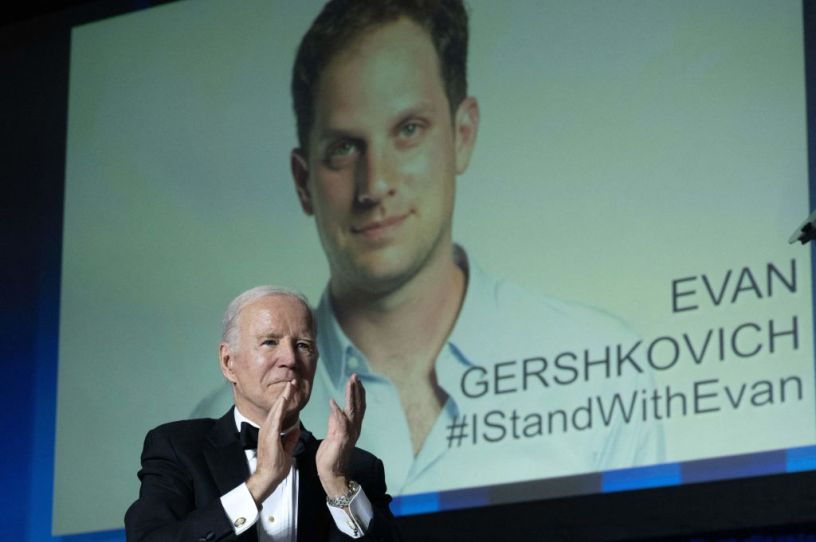 President Joe Biden gestures as an image of U.S. journalist Evan Gershkovich appears onscreen during the White House Correspondents' Association dinner in Washington, D.C., April 29, 2023. (Photo by Saul Loeb/AFP/Getty Images)
Last month, the State Department designated Wall Street Journal reporter Evan Gershkovich as "wrongfully detained" by Russia following his March arrest on bogus charges of espionage—barely three months after the highly controversial prisoner exchange of convicted arms dealer, Viktor Bout, to bring home Brittney Griner from her own wrongful detention.
While the Biden administration has taken a welcome step toward addressing the growing problem of hostile powers taking Americans hostage–the White House hit Russia's Federal Security Service and a branch of Iran's Revolutionary Guard with sanctions last week for their role in wrongfully detaining American citizens abroad—the Gershkovich case affords the government an opportunity to use a relatively new foreign policy tool for punishing foreign actors who wrongfully detain Amercans.
In late 2020, Congress passed the Levinson Act, named after former FBI agent Robert Levinson, who is believed to have died while being held hostage by the Islamic Republic of Iran. The law authorizes the president to impose sanctions not just on organizations, but on every individual—from prison guards to heads of state—complicit in holding Americans hostage. While the U.S. deploys sanctions against hostile powers for a number of reasons, it's the first law tied solely to the seizing of U.S. nationals abroad.
In July 2022, President Biden issued an executive order that authorized Secretary of State Antony Blinken, in consultation with the treasury secretary and the attorney general, to impose asset-blocking and visa-denial sanctions on any individual who is directly or indirectly responsible for or complicit in the wrongful detention of a U.S. national abroad. The executive order put the machine in place to implement the Levinson Act.