Humbug! Exorcizing my Inner Scrooge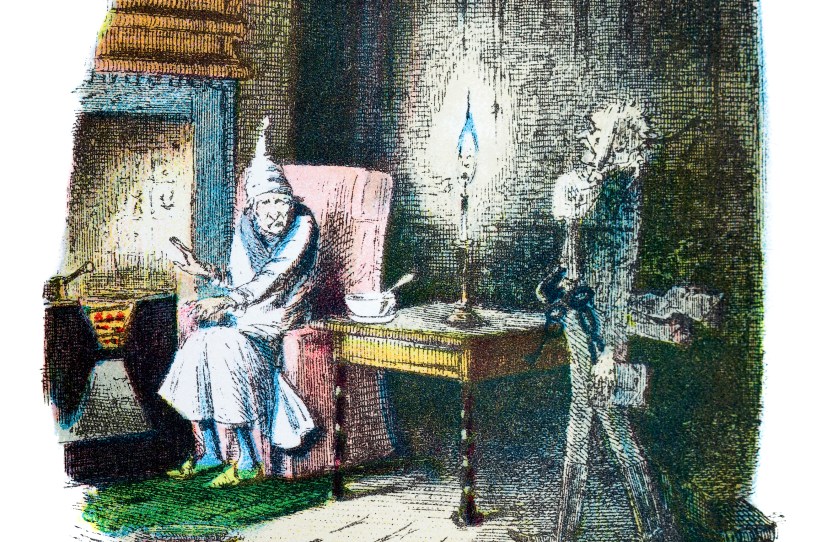 Scrooges Visit from Marley. Illustration by John Leech (1817-1864)
One of the local radio stations began playing Christmas songs 24/7 sometime around Halloween. That's a bit early for my taste, but who doesn't like hearing some Christmas classics? Among the standards is Andy Williams' old recording of "It's the Most Wonderful Time of the Year." It's a great song, but as Christmas bears down upon me, I must confess to having my doubts.
The mounds of papers and exams I have to grade at this time each year certainly don't help. It is difficult to exaggerate the tedium of reading undergraduate essays year after year after year. Just this week I have been informed that St. Thomas Aquinas was born in 440 B.C. (a remarkable achievement, even for the angelic doctor); that "when people think of Oedipus they want to be just like him because they admire him" (someone please make certain that student is carrying no sharp objects); and that most immigrants, according to one leading scholar, are not coming here for the "free bees" (if you don't get it, try reading it aloud, quickly).
It is not only the grading that leaves me questioning whether this is the most wonderful time of the year. It always seems to be the busiest time as well. We all bear our own crosses; one of mine is The Nutcracker. For almost 20 years now I have been watching my children dance in it, and every year, right when those final exams are staring me in the face, I spend two weeks driving—nightly—to practices, rehearsals, and performances.
And the bills! Presents, ingredients for the Christmas baking, food for the feast—In the words of Ebenezer Scrooge, "What's Christmas time but a time for paying bills without money; a time for finding yourself a year older, and not an hour richer; a time for balancing your books and having every item in 'em through a round dozen of months presented dead against you?"