In-Cycle Democrats Walk a Tightrope on Biden's Unfavorability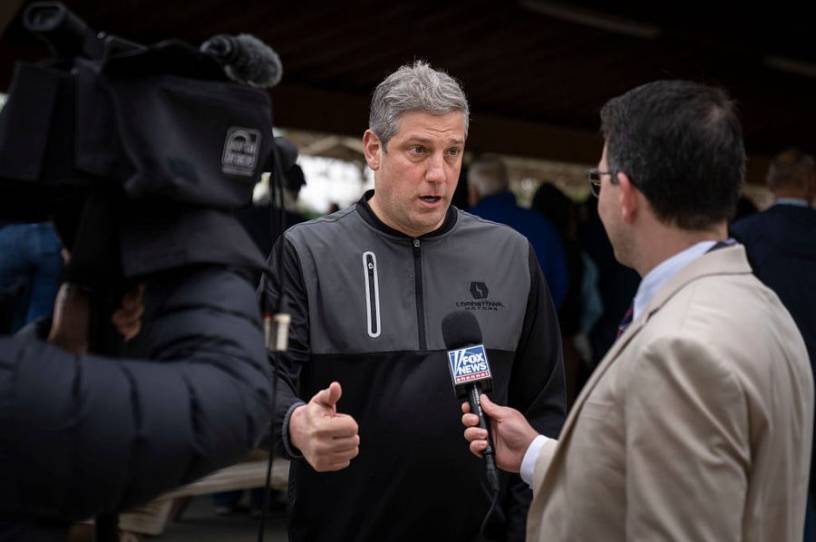 On a sunny Tuesday afternoon, a calm and collected Democratic Rep. Tim Ryan strolled down the steps of the U.S. Capitol with an air of confidence atypical for a Democrat running for Senate in a red-learning state. To his credit, Ryan was having an especially good go of things in mid-July, having spent the last few weeks leading Republican opponent J.D. Vance in polls by a comfortable margin. 
But that margin was still slim enough to require a keen awareness of any variables that might flip the script come November. Chief among those variables is President Joe Biden's historically low approval rating. "I've disagreed with the president enough for people to know how—to know that where he's helping Ohio, I'll help him, and if he's doing something against Ohio, I'll be against him," Ryan said in a July 19 interview, days after he declined to join Biden during his visit to Cleveland.
Unlike most vulnerable Democrats who dodge questions about whether they hope Biden will join them on the campaign trail, Ryan makes it clear in his conversations with reporters that there's virtually no upside to involving the president in his Senate race. "I really don't want anyone to join me—like, this is my race," Ryan told The Dispatch. "We're not really asking too many people to come in."
But as in-cycle Democrats continue to adapt to a series of unforeseen political developments ahead of November—a surprising abortion vote in Kansas, the Senate's passage of the Inflation Reduction Act, or the FBI's raid on former President Donald Trump's home—there are two considerations that seem unlikely to change dramatically in the foreseeable future: sky-high inflation, and the uncomfortable reality that Biden's favorability continues to hover below 40 percent.