In Wisconsin, 'Stop the Steal' Still Roiling GOP Politics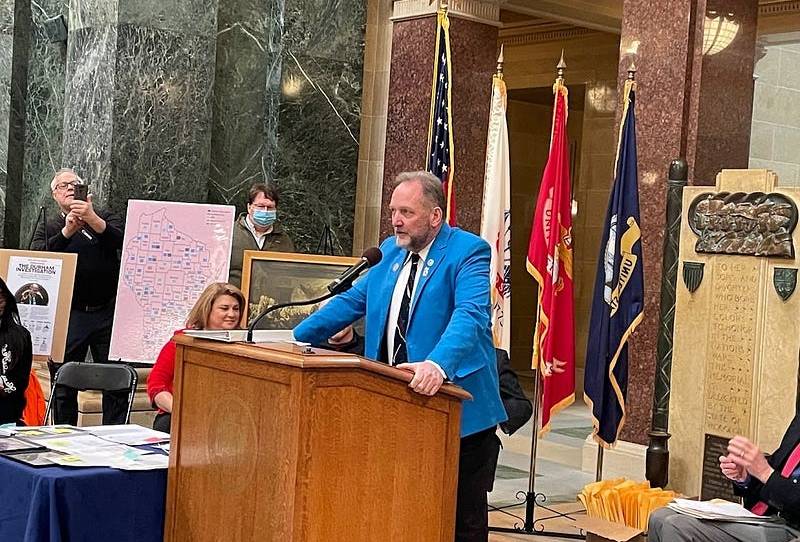 MADISON, Wisconsin—On Tuesday, Republicans marched on the Wisconsin State Capitol in an effort to overturn the state's 2020 presidential election. But this was not simply a group of disgruntled private citizens waving Trump flags, and the event shows that the last election will undoubtedly influence the upcoming midterms.
At a noon rally, gubernatorial candidate Tim Ramthun addressed supporters, demanding the state legislature do something it has no power to do: "rescind" the state's 10 electoral votes cast for Joe Biden in 2020. Ramthun, a state representative from a rural area north of Milwaukee, has become the state's primary supporter of the conspiracy theory that the 2020 presidential election—the same election in which Ramthun himself was elected—was stolen from Donald Trump.
"I'm not conspiracy," Ramthun told the crowd of about 200 people gathered in the same rotunda pro-union activists occupied a decade ago to protest then-Gov. Scott Walker's changes to organized labor bargaining rights. "I want justice and closure on the details of the mechanics of our process," he said.
The state's legislative attorneys have said it is impossible for the legislature to "decertify" the 2020 election, but Ramthun claims he has talked to constitutional attorneys around the country who disagree.