Is Trump Implementing COVID Relief Efforts With 'No Oversight'?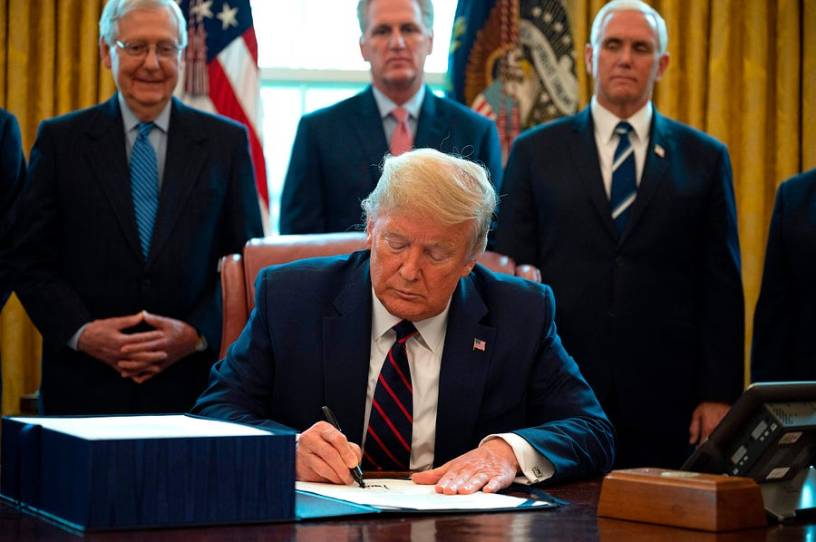 During a virtual rally in Wisconsin Wednesday, presumptive Democratic presidential nominee Joe Biden claimed that President Trump was implementing the coronavirus relief effort with "no oversight, no IGs [inspectors general], no accountability."
Despite what the vice president said, several different methods of oversight for the coronavirus relief effort were created by the CARES Act. Perhaps the most significant is the Pandemic Response Accountability Committee, established by Section 15010 of the CARES Act established "to promote transparency and conduct and support oversight of covered funds and the Coronavirus response." The committee's responsibilities include, among others, auditing the economic relief funds to prevent waste and abuse and ensure the money is efficiently distributed. 
The CARES Act also outlined the membership of the committee: the inspectors general of the departments of Defense, Education, Health and Human Services, Homeland Security, Justice, Labor, and the Treasury, plus the inspectors general of the Small Business Administration and Tax Administration, a position in the Treasury Department that oversees the IRS. The committee had initially selected the acting director of the Department of Defense, Glenn Fine, as its chairman, but he was controversially removed from his post as acting inspector general by President Trump, thus disqualifying Fine from membership on the committee.
Trump replaced Fine with the inspector general of the Environmental Protection Agency Sean O'Donnell, who, by virtue of his new position as acting inspector general of the Department of Defense, assumed Fine's position on the Pandemic Response Accountability Committee as well. A permanent chairperson for the committee has not yet been selected, and Michael Horowitz, the inspector general for the Justice Department, currently serves as acting chairman.