Love's In Need of Love Today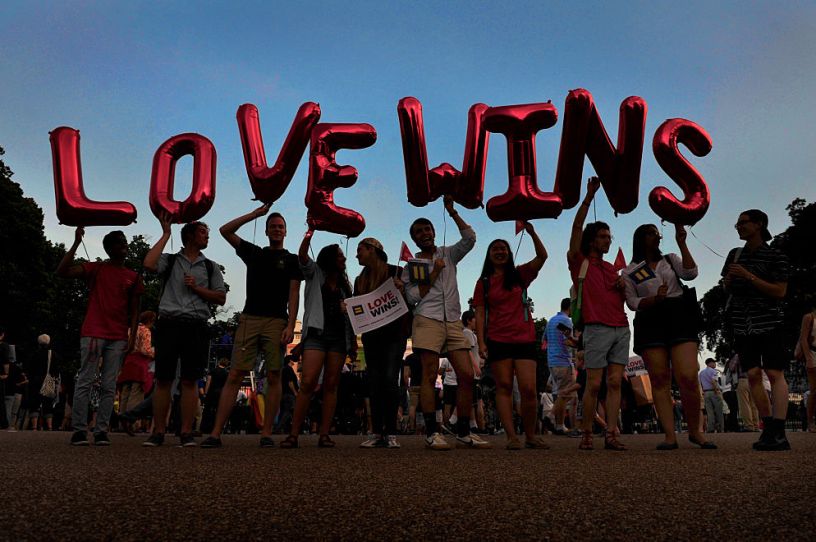 Gay marriage supporters carried balloons in front of White House to celebrate the Supreme Court decision to allow gay marriage, June 26, 2015. (Photo by Michael S. Williamson/Washington Post/Getty Images)
In an 1864 speech in Baltimore, Abraham Lincoln said that "the world has never had a good definition of liberty, and the American people, just now, are much in need of one." Knowing the human condition as he did, Lincoln would surely not be surprised to find that we have the same need 159 years later.
"We all declare for liberty, but in using the same word we do not all mean the same thing," he said. "And it follows that each of the things is, by the respective parties, called by two different and incompatible names." Those names are "liberty" and "tyranny."
But today, on the eve of Valentine's Day and one day after the Great Emancipator's birthday, I would like to add another word to Lincoln's problematic political lexicon: love.
Love of country, love of our neighbors, love of, yes, liberty, can all be virtuous things, but can all be turned to evil ends. As Lincoln said, there are two, not only different, but incompatible things, called by the same names: "love" and "hate." 
You're out of free articles
Create an account to unlock 1 more articles