Mike Pompeo's Preemptive Strike on Donald Trump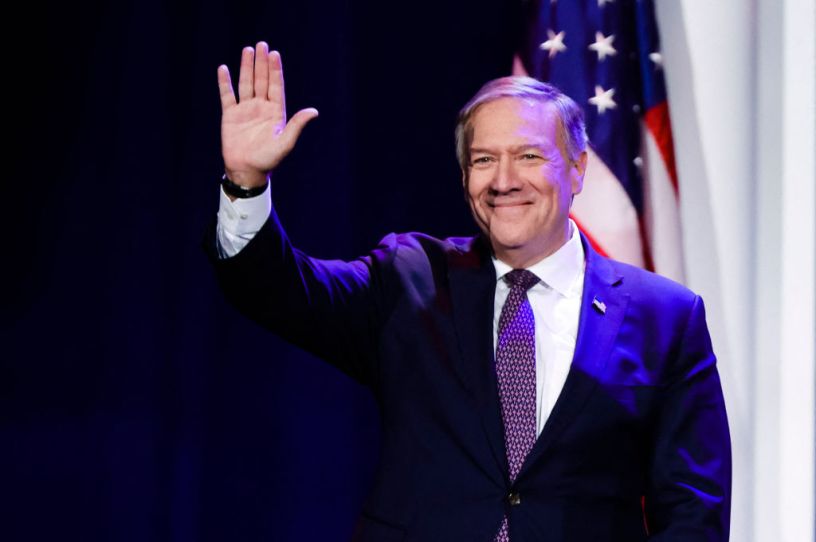 Former U.S. Secretary of State Mike Pompeo waves as he arrives to speak during a Republican Jewish Coalition Annual Leadership Meeting in Las Vegas, Nevada, on November 18, 2022. (Photo by Wade Vandervort / AFP) (Photo by WADE VANDERVORT/AFP via Getty Images)
If Mike Pompeo opts not to run for president in 2024, it won't be out of any sense of personal loyalty to Donald Trump.
Trump plucked the little-known congressman from Wichita, Kansas, to serve in his administration, first as director of the Central Intelligence Agency and then as secretary of state. The former president entrusted Pompeo with some of his most sensitive foreign policy endeavors, negotiating détente with North Korea chief among them. That experience makes Pompeo a formidable White House contender, should he run.
But in a wide-ranging interview to discuss his new book, Never Give An Inch: Fighting for the America I Love, Pompeo said the role Trump played in his rise to prominence would not dissuade him from running for president against his old boss.
"The good Lord gave us the tools, the skills. That's who is responsible for making us," Pompeo told The Dispatch. "It is not remotely disloyal to present your argument, your case to the American people for anyone—someone who worked on my team or my staff, or who I promoted or gave a job to. Nor, someone who gave me an opportunity as well. Those of us who get into the race, we'll all go compete, and the American people will sort it out."
Keep reading with a free account
Create a free Dispatch account to keep reading
Get Started
ALREADY HAVE AN ACCOUNT? SIGN IN