Pakistan's Self-Made Jihadist Crisis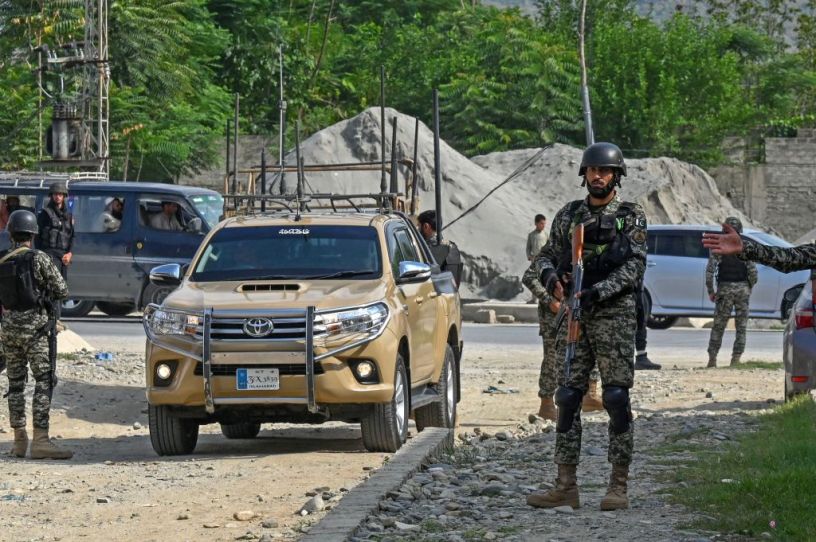 Security personnel stand guard at the site of a bomb blast in Bajaur district of Khyber-Pakhtunkhwa province on July 31, 2023. (Photo by ABDUL MAJEED/AFP via Getty Images)
The suicide bombing that killed more than 60 people and injured hundreds more Sunday at a political rally in Pakistan's northwest Bajaur district is the latest spillover from chaos wrought by the Taliban's takeover of neighboring Afghanistan. The suicide bombing was Pakistan's 18th in this year alone, and the jihadist groups battling for control in the region show no signs of stopping.
Responsibility for the latest bombing was claimed by the Islamic State Khorasan (ISIS-K), a terrorist group fighting for pockets of control in Taliban-ruled Afghanistan and active across Central and South Asia. In tribal areas near the Afghan-Pakistani border, it's hoping to pull supporters and influence from the dominant Islamist militia, the Tehrik-i-Taliban (TTP)—the Taliban's Pakistani offshoot.
It's a crisis of Pakistan's own making. Even as it claimed to be a regional ally of the United States, Islamabad supported the Taliban in its multi-decade insurgency against U.S. forces and the now-deposed Afghan government. When Taliban fighters flooded into Kabul two years ago, then–Pakistani Prime Minister Imran Khan declared that they were "breaking the chains of slavery."
But their relations quickly took a turn for the worse. Border skirmishes erupted throughout 2021 and 2022, but the biggest sticking point may be the Taliban's backing of the TTP in its own insurgency against the Pakistani government. The Taliban's triumph allowed the group—which had fled into Afghanistan after Pakistani crackdowns—to get its hands on advanced weapons, broaden its support base, and move some fighters back to Pakistan.