Paying Tribute to Agatha Christie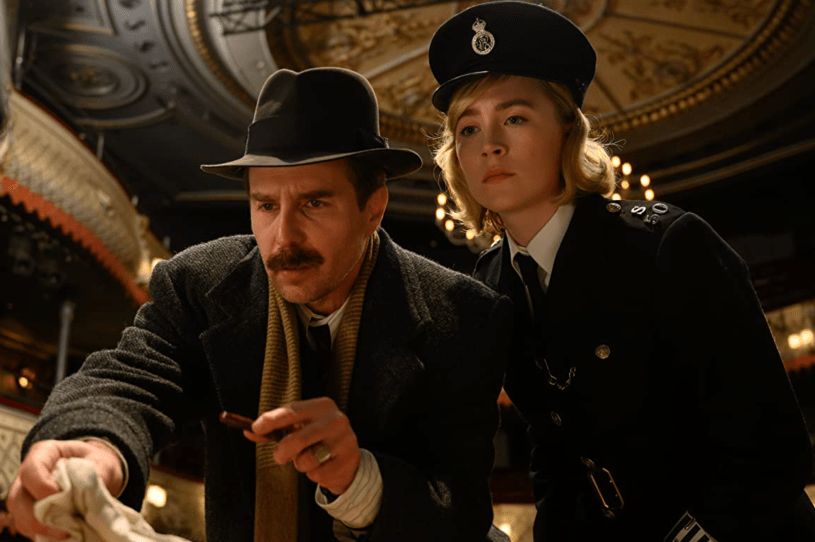 (Sam Rockwell and Saoirse Ronan in 'See How They Run.' Image via IMDb.)
"You see one whodunit, you've seen them all," Leo Köpernick (Adrien Brody) proclaims at one point in See How They Run, HBO's new attempt to cash in on the recent popularity of mystery content.
The film stars Saoirse Ronan as Constable Stalker, an overeager constable assigned to train under Sam Rockwell's world-weary Inspector Stoppard. The pair are called in after American film director Köpernick is murdered at a party celebrating the 100th show of the Agatha Christie-authored play The Mousetrap in 1953. Köpernick was planning to adapt the play to film, with producer John Woolf (Reece Shearsmith) and writer Mervyn Cocker-Norris (David Oyelowo). Köpernick and Cocker-Norris butted heads, Woolf was being blackmailed over his adultery by Köpernick, and Köpernick had womanized his way through England post-World War II, leaving a host of possible suspects, including the married stars of the play, Richard Attenborough (Harris Dickinson) and Sheila Sim (Pearl Chanda).
The writer behind See How They Run, Mark Chappell, astutely recognized the difficulty of adapting Christie's work once more—despite its request of silence at the end, with its long run what fan of mystery doesn't know how The Mousetrap ends at this point? Instead, he created a loving homage to Christie, with a twisty-turny, misdirect-filled mystery the great author would have admired herself. While the characters occasionally poke fun at the tropes and traditions of whodunits, the genre dissection is amusing in a loving sort of way. It's clear that no ill-will is intended toward Christie and her works, and the result is a twee, murderous romp through post-war England.
The set design, costumes, and camerawork are vaguely Wes Andersonian, with warm colors and symmetry that feed into the country house mystery vibes even when the action isn't taking place in a country house. One imagines reading a Christie novel next to a roaring fire; See How They Run approximates that sensation about as well as can be done in film.