Russian Propaganda Targets the Use of Depleted Uranium in Ukraine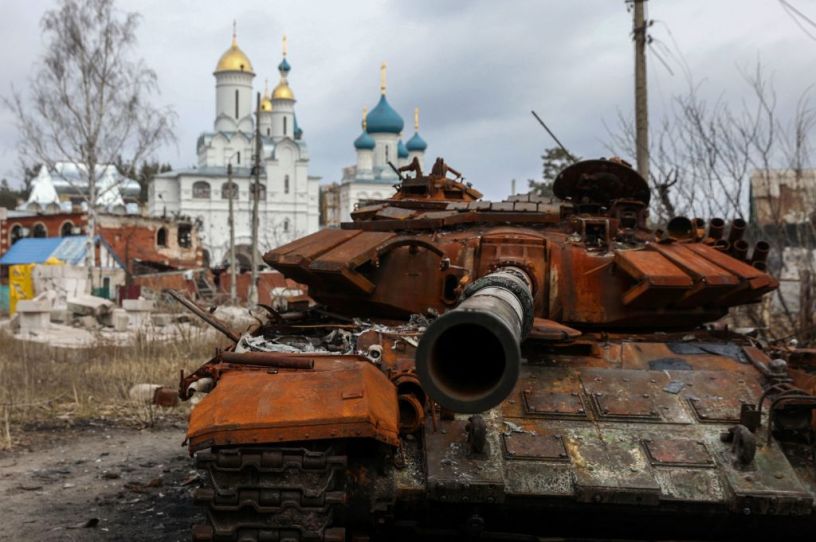 A destroyed Russian tank is photographed in the town of Svyatogirsk, Donetsk region on March 1, 2023, amid the Russian invasion of Ukraine. The United States recently announced it would send anti-tank munitions made with depleted uranium to Ukraine (Photo by Anatolii Stepanov/AFP/Getty Images)
The Russian disinformation machine has zeroed in on its latest target: U.S. plans to provide depleted uranium munitions to Ukraine. The Biden administration announced earlier this month that it would include the armor-piercing rounds in a $175 million aid package, and the Kremlin responding by calling Washington's plans "a criminal act." The only problem: Russia is already using these munitions in its invasion. But that fact does not concern Russia's propaganda machine, which wants to scare the Biden administration and its allies into limiting assistance to Ukraine.
The density of depleted uranium makes it a very potent and effective projectile to penetrate targets, and it is significantly less radioactive than enriched uranium, leaving it unable to create a nuclear reaction. Depleted uranium ammunition could conjure up visions of nuclear-armed projectiles. But the reality is less fanciful. Edward Geist, a RAND nuclear expert, explained that depleted uranium does "retain some radioactive properties," but the weapons "can't generate a nuclear reaction." The U.S. Centers for Disease Control and Prevention also notes that, "no human cancer of any type has even been seen as a result of exposure to … depleted uranium."
Russian Foreign Minister Sergei Lavrov said in March that the U.K.'s decision to send depleted uranium ammunition to Ukraine would violate "international humanitarian law as in 1999 in Yugoslavia." However, this is not accurate. There is no treaty directly prohibiting the use of depleted uranium munitions in an armed conflict.
Vladimir Putin's threat that "Russia will be forced to respond accordingly," and his claim that the depleted uranium shells are "weapons with a nuclear component" can't be seen as credible given Russia's own reported use of depleted uranium in Ukraine.
You're out of free articles
Create an account to unlock 1 more articles