Self-Flagellation Nation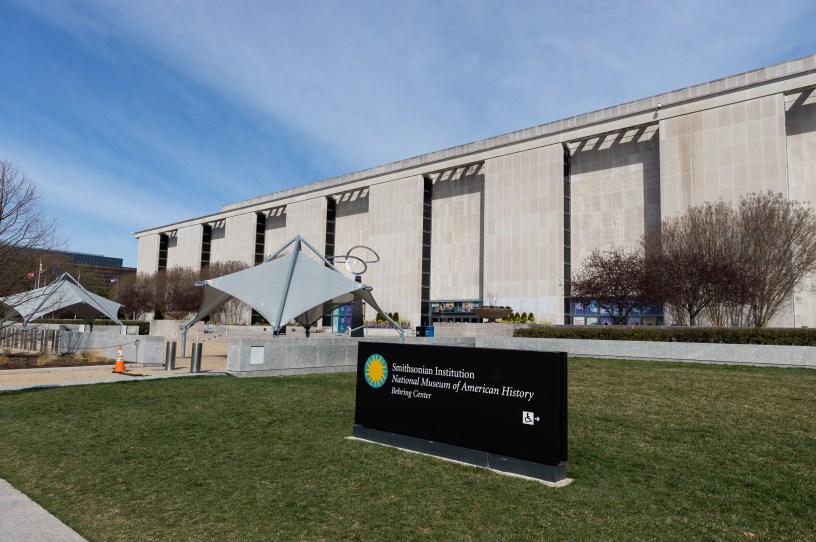 The National Museum of American History is seen closed due to the COVID-19 outbreak starting Saturday, March 14. This decision was made in an effort to limit large gatherings of people, as the number of COVID-19 cases in the Washington, D.C., Maryland, Virginia increase. March 14, 2020 Washington, D.C. (Photo by Aurora Samperio/NurPhoto via Getty Images)
The National Museum of American History's newest exhibit, Entertainment Nation, beckons visitors in with old friends. C-3PO and R2-D2 stand near the entrance. The original Kermit the Frog sits just farther back, and Dorothy's ruby red slippers sparkle under the display lights. The exhibit, which opened last month after more than a decade of preparation, showcases the past 150 years of American culture. Specifically, the exhibit promises to explore how "entertainment has provided a forum for important national conversations about what kind of people we are—and want to be."
Regrettably, the curators' attempts to link the items on display to big moments in American history often produce head scratching results. For example, next to the C-3PO costume and R2-D2 unit—which George Lucas used in filming his original trilogy—a short paragraph of text explains:
"By the mid-1970's, the nation found itself reeling from its loss in Vietnam and revelations about Richard Nixon's dirty-tricks presidency. In response, Star Wars creator George Lucas offered a tale set 'in a galaxy far, far away' where a struggling republic was fighting for survival. The saga's motley heroes—a Jedi farm boy, a princess, a pirate, a Wookiee pilot, even droids—inspired hope and raised an enduring question: How can we build a virtuous republic?"
Admittedly, I did not attend the premiere of A New Hope in 1977, but I am fairly certain that most Americans did not go to see Star Wars because they recognized Emperor Palpatine as some kind of Nixon analogue. People fell in love with Star Wars thanks to Lucas' groundbreaking visual effects, creative story, and because lightsabers were awesome. Can the Smithsonian really claim that Star Wars facilitated a "national conversation" if most folks who bought tickets just thought they were seeing a movie?