Sen. Tommy Tuberville's Military Holdup, Explained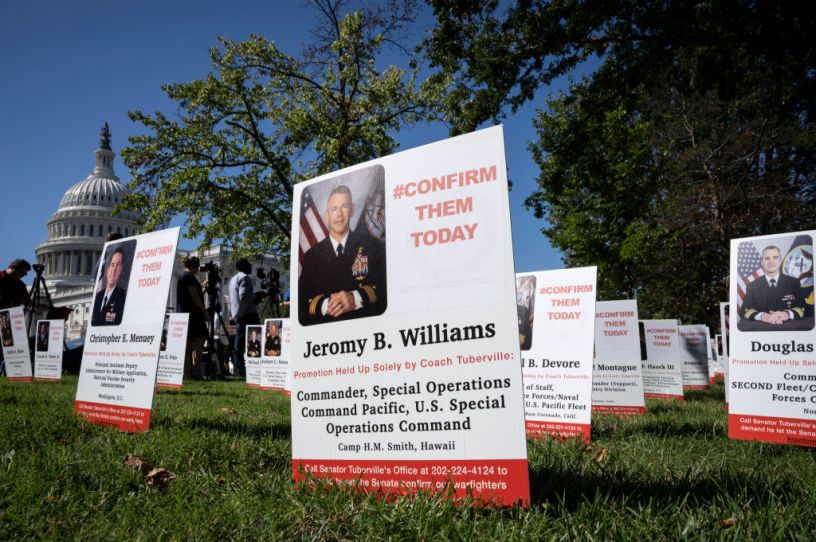 An installation of hundreds of signs representing the growing number of nominations of senior military leaders that have been held up by Sen. Tommy Tuberville, outside the U.S. Capitol on September 19, 2023. (Photo by Drew Angerer/Getty Images)
Senate Majority Leader Chuck Schumer broke through a monthslong standoff Wednesday night when he pushed through a vote on the Senate floor to confirm the next chairman of the Joint Chiefs of Staff. Until the vote, Gen. Mark Milley's replacement as chairman of the Joint Chiefs, as well as the top positions of the Army, Navy, and Marine Corps, had been caught in Republican Sen. Tommy Tuberville's ongoing hold on military confirmations.
Tuberville had been blocking the moves, and is still blocking hundreds more, in protest of the Defense Department's policy of providing administrative leave and covering travel costs for service members and their dependents who must travel for access to abortion. He and other Republicans say the policy violates the Hyde Amendment, a decades-old law that bars federal funds from being used for abortions. But the Hyde Amendment doesn't preclude the federal government from funding travel to obtain an abortion, and in October the Department of Justice released a memorandum defending the legality of the Defense Department policy. In a letter to Senate Armed Services Committee ranking Republican Roger Wicker, Defense Secretary Lloyd Austin reported that only 12 women, of approximately 230,000 eligible service members, have utilized the policy. Politico reported that a number of service members declined to use the policy for fear of reassignment or retribution.
Since Tuberville instituted his hold in March—when the policy he is protesting went into effect—Schumer has declined to hold floor votes for the senior leadership of the Marines, Army, and Navy, though the majority leader said Wednesday floor votes will come Thursday for the top Marine Corps and Army positions too. Still, the list of Tuberville's critics has grown to include other congressional Republicans. They all say Tuberville is ultimately harming the military and national security.
Whom is Tuverbille blocking?
You're out of free articles
Create an account to unlock 1 more articles